How divisive have we become online? Very.
"What does pineapple pizza have to do with interference by Russia and other trolls in U.S. elections?
Everything, the head of an American cybersecurity agencies says. Because foreign governments, trying to create divisiveness, want Americans to argue and will go after low hanging fruit, like pizza toppings.
From a little-known conference put on by Fordham University and the FBI this week, DHS Cybersecurity and Infrastructure Security Agency (CISA) Director Christopher Krebs tweeted his own hot take on pineapple pizza: Thumbs down.
....
CISA breaks down the playbook of foreign influencers into five steps: targeting divisive issues (see: pineapple pizza), moving accounts into place, amplifying and distorting the conversation, making the mainstream (see: NBC News story about pineapple pizza), and taking the conversation into the real world.

Krebs said his agency is trying to strengthen the national immune system for disinformation. "How do you take the tactics, techniques, and procedures of the bad guys, and educate the American people? How do you explain, 'This is how you're being manipulated, this is how they're hacking your brain?'"
Continue reading the article online:
https://www.nbcnews.com/news/us-news/u-s-cybersecurity-agency-uses-pineapple-pizza-demonstrate-vulnerability-foreign-n1035296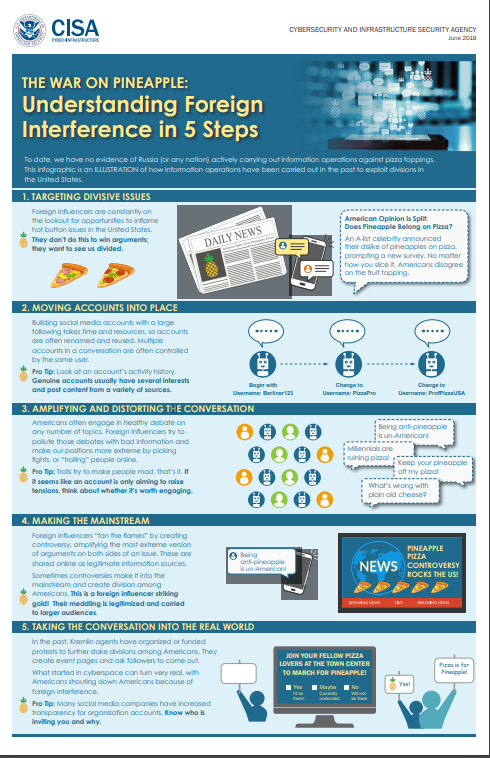 Pineapple pizza? Yes or No?