LAST 2 WEEKS IN REVIEW
DECEMBER 12 - DECEMBER 23
I'm your representative in Congress and I write to keep you informed. First, I'd like to wish you a happy holiday season!
On the Hill
Federal Spending: Earlier today, I joined my colleagues in voting to pass the federal budget for Fiscal Year 2023. This piece of legislation includes critical funding for health care, clean energy & climate action, and Ukraine. I also secured more than $38 million in funding for our district as part of the bill. These investments will help cities & towns in the Fourth provide clean drinking water, improve transportation, and stimulate economic development. I worked closely with state and local officials to prioritize these projects and align federal, state, and local funding sources for them.

This final bill of the 117th Congress also included a measure — the Electoral Count Act Reform — to harden one institutional weak spot that Donald Trump tried to exploit in his insurrection on January 6th. This bipartisan law to safeguard the peaceful transfer of power, recommended by constitutional experts and the January 6th Committee, is a fitting way to conclude a term that began with an assault on democracy.

Ukraine: I was moved by Ukrainian President Volodymyr Zelenskyy's words when he spoke at the joint session of Congress earlier this week. He made clear that in 2023, with Ukrainian courage and American resolve, we can defend the principles of the free world against Russia's unprovoked and unjust invasion. Speaking to us from the frontlines of freedom, President Zelenskyy thanked us for our support over the last ten months — and rightfully asked us for more. I am proud that the federal budget for FY23 included additional assistance for Ukraine. This funding will support Ukraine's military with training, weapons, and logistics; replenish US stocks of equipment sent to Ukraine; and provide economic support to the Ukrainian government.

Additionally, I've worked across the aisle to build support for the Russian oil price-cap and will continue to work on bipartisan backing for Ukraine. Our support for Ukraine is sending a message to Moscow, it's sending a message to Beijing, and it's sending a message to other authoritarian regimes: the United States is committed to defending the principles of democracy and freedom across the globe.

Make your voice heard → Do you think Congress should continue providing support to Ukraine to defend against Russia's invasion?
Do you support continuing to provide assistance to Ukraine?

Around the Fourth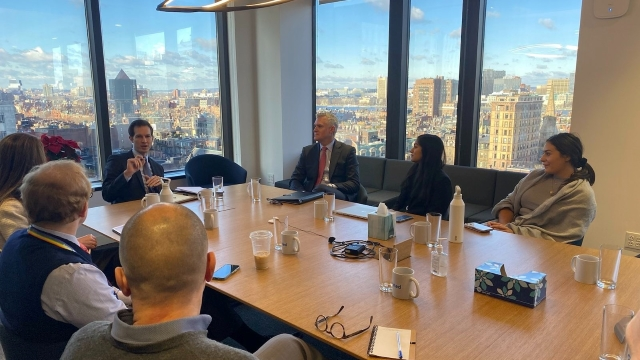 Ørsted Offshore Wind: Earlier this week, I visited Ørsted's Boston office and had a detailed conversation about the technology, politics, and economics of offshore wind. In order to hit President Biden's goal of 30 gigawatts of offshore wind by 2030 - and to make sure that Massachusetts is the hub of this growing industry - we need strong public-private collaboration.

Offshore wind will continue to be a top priority for me. From supporting construction and installation to growing our mariner workforce, there is plenty that the U.S. needs that Massachusetts can provide. I'll remain a champion of offshore wind in the 118th Congress because I want cheap, clean energy for Bay Staters and good jobs in southeastern Massachusetts.

Congressional App Challenge: Congratulations to Alyssa Feinberg, Julia Hulburd, Salome Hizanishvili, and Sophie Strausberg for winning our district's Congressional App Challenge by developing CommunAphasia. Each year, middle and high school students from across the district are encouraged to learn to code and develop an app to be submitted for consideration. CommunAphasia took a unique approach to improve the quality of life of people with Aphasia - a language impairment that hinders a person's ability to communicate. The application provides a messaging system that uses icons and symbols to make it easier for people with Aphasia to communicate. The app also offers speech therapy exercises to improve comprehension and speaking abilities.

I am proud of Alyssa, Julia, Salome, and Sophie for their hard work, creativity, and passion, and I look forward to seeing next year's participants' submissions.
Onwards,

Jake
WASHINGTON
15 Independence Avenue SE
1524 Longworth HOB
Washington, DC 20515
Phone: (202) 225-5931

NEWTON
29 Crafts Street
Suite 375
Newton, MA 02458
Phone: (617) 332-3333

ATTLEBORO
8 North Main Steet
Suite 200
Attleboro, MA 02703
Phone: (508) 431-1110