Tuesday, November 10th, Dr. Mehmet Oz will once again shine a spotlight on the addiction crisis sweeping the country. U.S. Surgeon General Vivek Murthy and actress Mackenzie Phillips will join the nationally syndicated show.

Tuesday's Dr. Oz show will describe a project, in conjunction with Facing Addiction (FacingAddiction.org) and Drugs Over Dinner (DrugsOverDinner.org) to hold a National Night of Conversation on Thursday, November 19th.

On this night, we are asking folks to have a conversation about addiction with the people around their dinner tables. The Dr. Oz Show team developed a parental discussion guide to help with the conversation. It can be found at DoctorOz.com. The guide was created with assistance from Facing Addiction, SAMHSA, NIDA, and the National Council on Behavioral Health.

Please post a picture of an empty dinner plate or the below graphic on social media starting today. The plate symbolizes support for this national turning point in our willingness to face addiction and indicates that this particular meal is not about the food. It's about the conversation.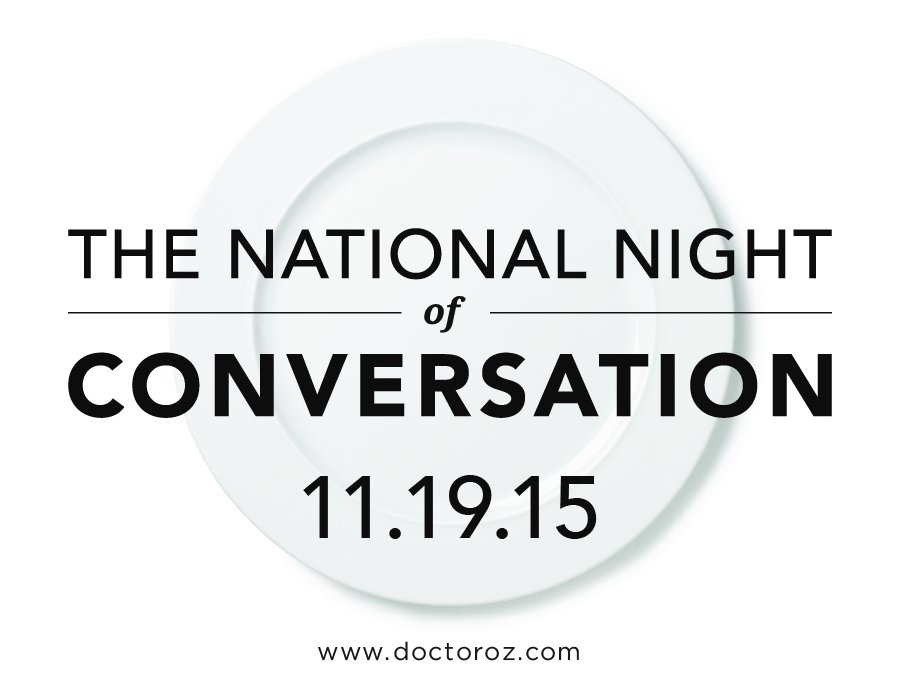 Whether or not you plan to host a dinner, please post the plate graphic so that others can see it and take action. Please use #nightofconversation on Twitter, Facebook and Instagram. Here are sample posts to circulate over the next 10 days (and please include the plate graphic):


We're proud to partner with Dr. Mehmet Oz, Facing Addiction and Drugs Over Dinner in a campaign called #nightofconversation, a national project to get families talking about drugs. Learn more on tomorrow's Dr. Oz show and host a dinner on November 19! More info at DoctorOz.com.
See this empty plate? On Nov. 19, fill it with conversation with your family about drugs. #nightofconversation
Watch the @DrOz show tomorrow to learn about #nightofconversation, a time for a family talk about drugs.
Join @FacingAddiction @DrOz @DrugsOverDinner 11/19 for a #nightofconversation among families about drugs.

Thank you for taking part in this life-saving initiative.

Sincerely,

The Facing Addiction Team