Saturday, Jan. 11, 7:30 PM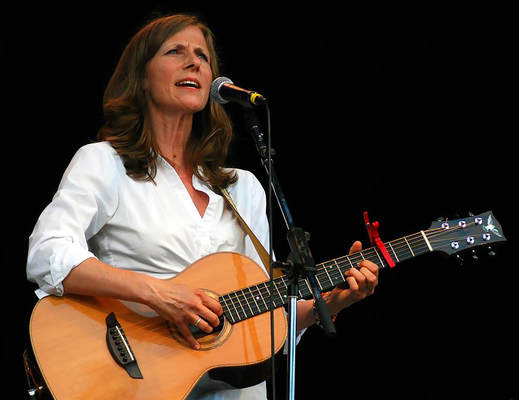 Tracy Grammer with Jim Henry at OCC Coffeehouse Jan. 11
TRACY GRAMMER is one of contemporary folk music's most beloved artists. Renowned for her springwater-clear alto, perfectly intoned violin, and guitar playing that is by turns percussive and delicate, Grammer is also a gifted storyteller whose incantations add a rare mixture of vulnerability, intimacy, and hard-won insight to her performances. As one fan puts it, "With Tracy, it's never just about the music; it's a soul journey."
And what a journey it has been. Grammer rose to acclaim as half of the "postmodern, mythic American folk" duo, Dave Carter & Tracy Grammer. From 1998-2001, the duo released three internationally celebrated, chart-topping albums featuring Carter's mytho-poetic Americana songcraft and in 2002, toured with Joan Baez, both as featured artists and Baez's bandmates. Called "the new voice of modern folk music," the duo was clearly in its ascendancy when in July, 2002, Carter suffered a fatal heart attack mid-tour. He was 49; Grammer, 34.
Grammer is currently on tour celebrating the release of LOW TIDE, her first album of original songs. "I've been a writer all my life, but it was never my intention to be a songwriter," she says. "However, the road has curves we can't see at the outset of the journey. At some point along the path, writing songs became the most effective medicine for the pains and unresolved questions of my life. LOW TIDE is an album of revelations, confessions, and ultimately, healing. I am proud of the writing and utterly thrilled with the sounds. I took risks. I tried new approaches. I told the truth, and delivered my multitudes. My eleventh album is the first one that really sounds like me." Co-produced with long-time touring partner Jim Henry, LOW TIDE was released January 19, 2018 on Grammer's own label, Tracy Grammer Music, and is available through Fish Records in the U.K.
It's hard to know where to start when describing Jim Henry. He does a lot of things and he does them well. As a sideman, on a variety of electric or acoustic guitars, or on mandolin or dobro, Jim can render emotional sensitivity in one moment then tear into a rock or country solo with such fire it's hard to catch your breath. He is a master of adding whatever is needed at any musical moment. At center stage, whether as a solo artist or leading a band, Jim delivers his finely crafted original songs with a smooth, rich baritone voice and engaging storytelling and humor.
Tickets for the concert are $20, available at the church office, 508-384-3110, or at https://www.musicatocc.org/. The event will be in Fellowship Hall at the back of the church with entry from the parking lot behind the church. Parking is available behind the church and in the lot across the street.
For more information and to be added to the mailing list, visit the website or contact Ken Graves, 508-384-8084, occmusic99@gmail.com.
OTHER SHOWS IN THE 2019-2020 SEASON
---
AT OCC COFFEEHOUSE: Tickets are now available for all shows on the website. All shows are general admission seating, so arrive early for good seats.
** Saturday, Feb. 15, 2020,

Everly Brothers Experience featuring The Zmed Brothers

. Since 2016, brothers Zachary and Dylan Zmed have been performing internationally to enthusiastic crowds to honor the memory of America's greatest Rock 'n' Roll singing sibling duo, the Everly Brothers.
** Friday, March 20, 2020,

Tom Paxton & The Don Juans

. Folk artists Tom Paxton, Don Henry and Jon Venzer have received many honors, including Grammy nominations and awards. Their songs have been covered by Harry Belafonte, Neil Diamond, Ray Charles, John Denver, Bob Dylan and more.
** Saturday, April 25, 2020,

Aztec Two-Step 2.0, featuring Rex Fowler, Dodie Pettit & Friends

. Now that Neal Shulman has retired, Rex continues on, recapturing the sound of the duo's original studio recordings.
** Sunday, May 24, 2020,

Ted Vigil, John Denver Tribute

. Ted is an award-winning singer, songwriter and tribute artist. He performs internationally, and wows the crowd, selling out theatres everywhere. A typical comment is "I can't believe how much he looks and sounds like John Dever."
---
See
website
for complete season schedule, more details, and for ordering tickets.
---