From the
Milford Daily News
, articles of interest for Franklin:
"Voters will decide in May on a $1.5 million override requested by the School Department for its fiscal 2021 budget.
Selectmen last Saturday approved the override, meaning the proposal will appear as a ballot question at the annual town election on May 5. The measure requires approval from a simple majority of voters to pass.
Superintendent of Schools Peter Marano said the school district is seeking the override to help compensate for a lower reimbursement expected from the state on charter school funding, as well as to add positions in areas of increased need.
For the average homeowner, the $1.5 million override would result in property taxes being increased by about $160 in the next fiscal year, Marano said, based on a home value of about $325,000.
Continue reading the article online (subscription may be required)
https://www.milforddailynews.com/news/20200226/bellingham-override-bid-heads-to-ballot-selectman-oked-15-million-school-budget-override-request
"The School Department anticipates "a budget gap to close" after reviewing its plans for fiscal 2021, requesting an increase of $3.9 million in funding from the town, according to Superintendent of Schools Sara Ahern.
Reviewed on Tuesday night before the School Committee, the proposed school budget of $68,767,873 represents an increase of $3,909,373 (6%) over the current budget, said Ahern. Fiscal 2021 begins on July 1.
The town's total current budget is $129.6 million, with about half of it - $64.8 million - allocated to Franklin Public Schools.
Even though the school district is requesting a $3.9 million increase for the coming year, Ahern said she doesn't anticipate the town paying that entire amount."
Continue reading the article online (subscription may be required)
https://www.milforddailynews.com/news/20200227/franklin-superintendent-anticipates-budget-gap-to-close
The live reporting from the School Committee meeting on Tuesday on the budget for FY 2021
https://www.franklinmatters.org/2020/02/live-reporting-recommended-budget-fy.html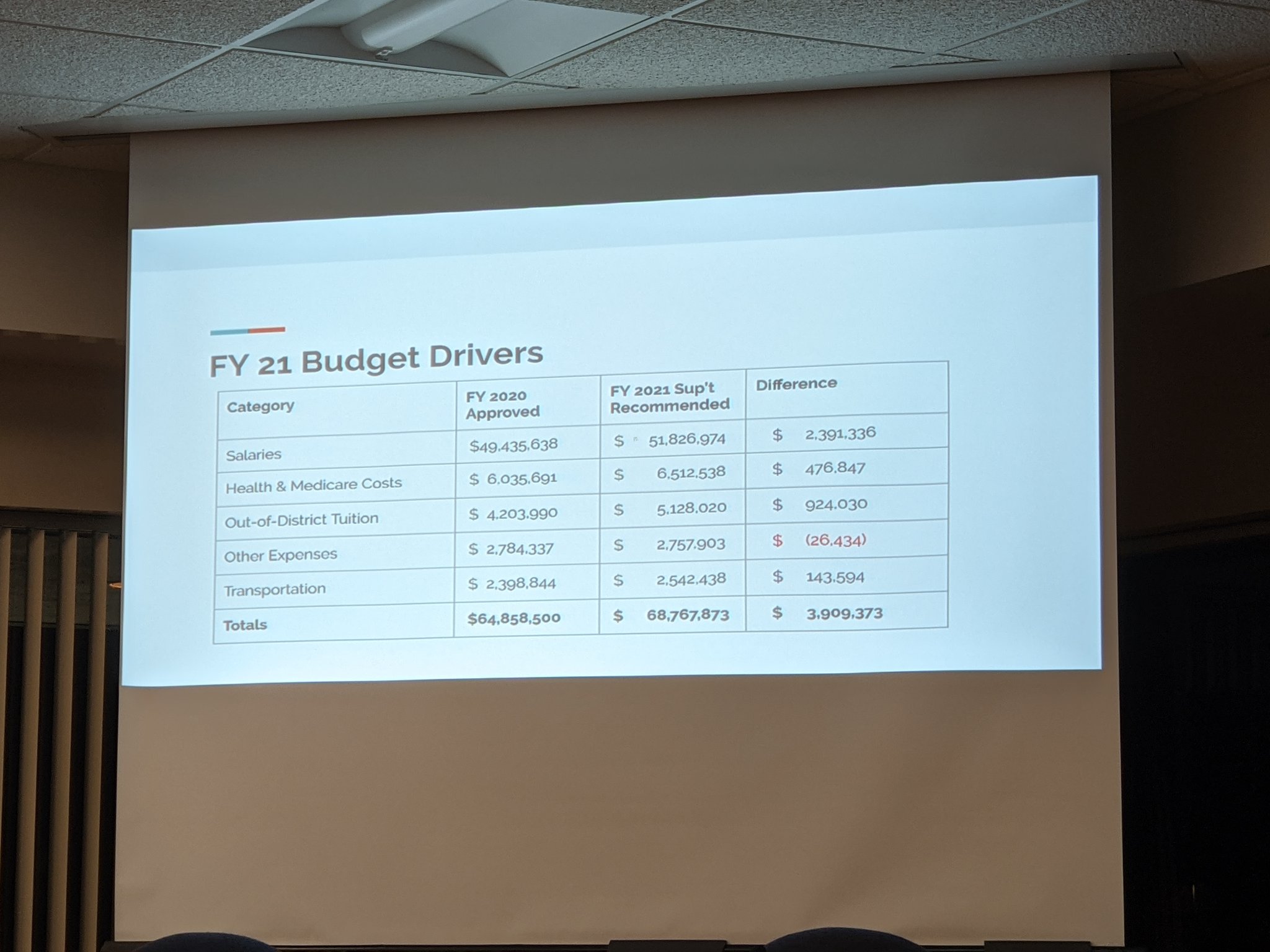 Assume Town of Franklin gets $3m in expected revenue, with schools proposing an increase of $3.9m over last year we have a math problem