"The Hub" has been created as a central area on the MIAA website for video content that students, coaches, athletic directors, administrators and more can explore and access on their own time, at their own pace.
The video presentations will cover a variety of topics including leadership, wellness, and other educational athletics content. Most videos will be approximately 15-20 minutes in duration and presented by speakers that the MIAA has partnered with through initiatives such as the New England Student Leadership Conference, Wellness Summit, Sportsmanship Summit and Diversity, Equity and Inclusion Summit.




Each Monday throughout the summer, a new set of six videos will be added to "The Hub". These weekly video releases will also be organized according to the core competencies of Social and Emotional Learning (SEL)."
Shared from Twitter: https://twitter.com/MIAA033/status/1415021973458100227
Go to http://www.miaa.net/contentm/easy_pages/view.php?sid=38&page_id=354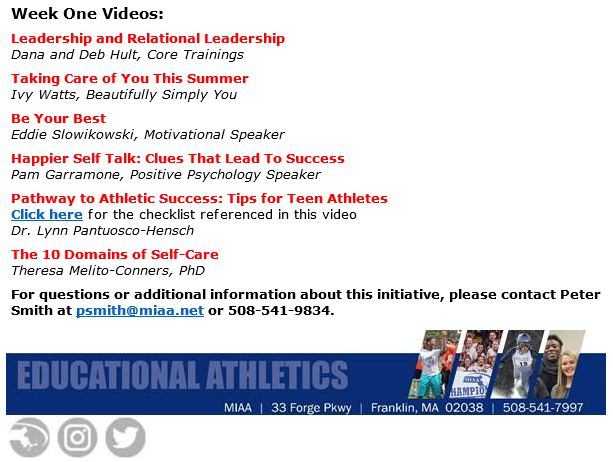 MIAA - week 1 at The Hub (video series)