The Environmental League of Massachusetts Action Fund has endorsed Jeffrey Roy in the election for State Representative of the 10th Norfolk District, a credit to his commitment to the environment and climate action. With issues of public health, environmental justice, transportation, and energy policy inextricably linked, we need leaders at every level of government who understand the pressing issues of their community and will call for ambitious action.
"Chair Roy was central to the passage of the 2021 Roadmap Bill, one of the strongest climate laws in the nation," said Casey Bowers, Executive Director of the ELM Action Fund. "He also crafted the House's offshore wind bill which will ensure the industry takes off in Massachusetts and provides the clean energy we need to reach our Roadmap targets. We're grateful for his leadership in addressing the climate crisis."
"I am honored and grateful to receive the endorsement from the ELM Action Fund, a group that has led efforts to fight global warming and has been a great partner at the State House in advancing climate policy," said Rep. Jeffrey N. Roy (D-Franklin). "Massachusetts has been a national leader in combating climate change and producing clean energy and I look forward to working with ELM to ensure that we continue to lead in this area."
Chair Roy was first elected to the Massachusetts House of Representatives for the 10th Norfolk District in 2012 and represents the residents of Franklin and Medway. He serves as the House chair of the Telecommunications, Energy, and Utilities (TUE) Committee. In 2021, he led efforts to finalize the Roadmap Bill on climate change. He is a proven leader in his work to reduce greenhouse gas emissions and prioritize environmental justice (EJ) communities.
The

Environmental League of Massachusetts

(ELM) Action Fund is a nonpartisan organization that helps pass laws that protect our environmental legacy, holds our elected officials accountable, and works to build the political power of the environmental community. To learn more about our work and our recent electoral victories visit www.elmaction.org/elections.
https://twitter.com/EnviroLeagueMA/status/1526571203992989696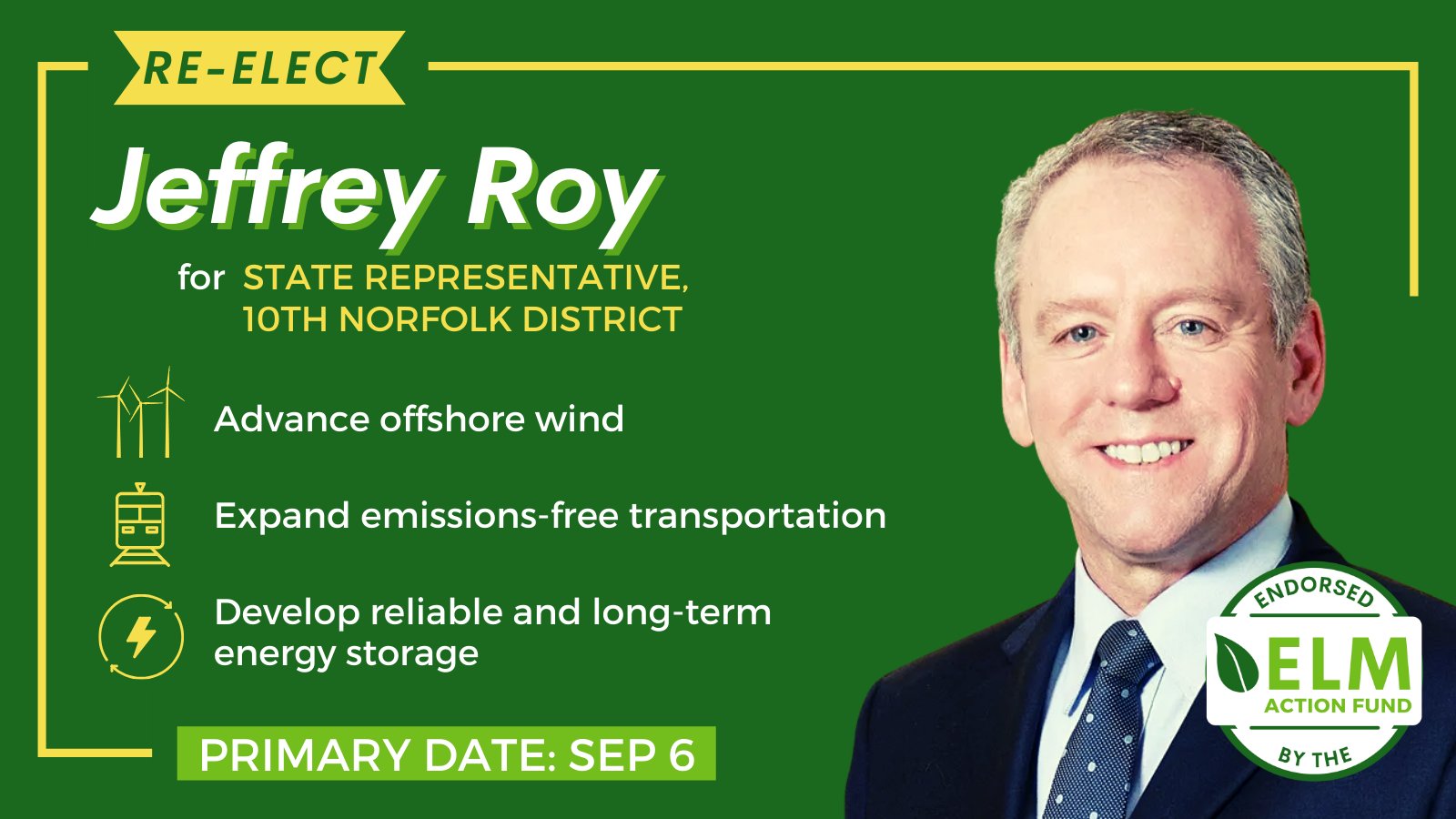 State Representative Jeffrey Roy Endorsed for 10th Norfolk District by Environmental League of Massachusetts Action Fund