Providing accurate and timely information about what matters in Franklin, MA since 2007. * Working in collaboration with Franklin TV and Radio (wfpr.fm) since October 2019 *
Thursday, June 10, 2021
Good video analogy of storm water and the impact it has
Tuesday, August 18, 2020
FM #329 = This is the Franklin Matters radio show, number 329 in the series.
This session of the radio show shares my "Talk Franklin" conversation with Town Administrator Jamie Hellen and Communications Specialist Anne Marie Tracey. We had our conversation via conference bridge to adhere to the 'social distancing' requirements of this pandemic period.
We talk about:
Re-opening

Election

Recap/set up

Stormwater - Sep 9 next meeting;

#thinkBlueFranklin extension to 8/23

EDC/ MAPC

Aug 20 next meeting, listening sessions scheduled

MECC grant

Senior center office hours 8/20

Councilor Earls leaves for law school
The recording runs about just over an hour, so let's listen to my conversation with Jamie and Anne Marie. Audio Link = https://anchor.fm/letstalkfranklin/episodes/Town-Updates-and-News-Reopening--Elections-and-more-ei9f85/a-a2vir6h
--------------
We are now producing this in collaboration with Franklin.TV and Franklin Public Radio (wfpr.fm) or 102.9 on the Franklin area radio dial.
This podcast is my public service effort for Franklin but we can't do it alone. We can always use your help.
How can you help?
If you can use the information that you find here, please tell your friends and neighbors

If you don't like something here, please let me know
Through this feedback loop we can continue to make improvements. I thank you for listening.
For additional information, please visit Franklinmatters.org/
If you have questions or comments you can reach me directly at shersteve @ gmail dot com
The music for the intro and exit was provided by Michael Clark and the group "East of Shirley". The piece is titled "Ernesto, manana" c. Michael Clark & Tintype Tunes, 2008 and used with their permission.
I hope you enjoy!
------------------
You can also subscribe and listen to Franklin Matters audio on iTunes or your favorite podcast app; search in "podcasts" for "Franklin Matters"
Friday, August 14, 2020
From the Milford Daily News, articles of interest for Franklin:
"Residents have a few more days to get in on the chance to win a $100 Amazon gift card by entering the town's #ThinkBlueFranklin contest.

The contest has been underway since July 20 and the last day to submit an entry is Sunday.

"The big-picture goal is to spread awareness about what happens to stormwater in our town, where it goes, and what we can do as residents to keep our water clean and protect our resources," Anne Marie Tracey, Franklin's marketing and communications specialist, wrote in an email.

Tracey is overseeing the initiative. Over the past few weeks, the town has been working to spread awareness about #ThinkBlueFranklin on its social media, not only about the contest but educating the community about the small steps it can take to help out.

Franklin is part of a pilot program for Think Blue Massachusetts, an award-winning campaign run by the Massachusetts Statewide Municipal Stormwater Coalition, Tracey explained."
Continue reading the article online (subscription may be required) https://www.milforddailynews.com/news/20200813/still-time-to-enter-thinkbluefranklin-contest?rssfeed=true
For additional information, visit the Town of Franklin page https://www.thinkbluemassachusetts.org/thinkbluefranklin
rain garden at Parmenter, one of several around Franklin part of the storm water mitigation plan
Tuesday, July 21, 2020
The Think Blue Franklin Contest starts today (7/20/20)!
Help us spread awareness about storm water!
Dear Franklin residents,
Today we're announcing the launch of a

#ThinkBlueFranklin

hashtag and photo contest! Participating is easy! Review the contest categories and take a few pictures. Pick your best and tag the photos on Facebook, Twitter, and/or Instagram with

#ThinkBlueFranklin

and @townoffranklinma (Instagram), @TOFranklinMA (Twitter), or @OfficialTownofFranklin (Facebook)! Twenty participants will be chosen at random to win $100 Amazon gift cards!
In this contest, residents of Franklin can win by sharing photos that fit the topics below:
Storm Drains: We want you to go "Go Drain-Spotting" in your neighborhood or around the community. Take a picture of a storm drain and tag it on social media.
Walkin' In the Rain: Put on your raincoat, galoshes, and grab the umbrella and take a stroll in the rain. Check out where the water in your neighborhood goes after a storm. Take a picture of you and your family out on the walk and tag it on social media.
Smart Yard Care: Taking your grass clippings to the local drop off-site? Following the instructions on your lawn fertilizer bag? Take a picture and tag it on social media so we can reward your smart yard choices!
Scoop the Poop: It's always a good idea to pick up after your pet and toss the waste in the trash. Take your best scoop the poop picture and tag it on social media.
The hashtag/photo contest runs from Monday, July 20th through Sunday, August 16th, and is open to Franklin residents only. There is no cost for residents to submit photos or win prizes. Winners will be contacted by August 21st.
Our

#Think Blue Franklin

campaign is about encouraging residents to do their part to make Franklin a cleaner and healthier place to live and work. To join in the fun, grab your phone, and snap pictures of you and/or your family doing these simple things to make Franklin's land and waters cleaner!
Ready to get started? You may submit one entry per category (listed above) and each photo you post must include

#ThinkBlueFranklin

and
@townoffranklinma (Instagram)
,
@TOFranklinMA (Twitter)
, or
@OfficialTownofFranklin
(Facebook)
. You may post to either Facebook, Instagram, or Twitter, whichever social media site you prefer.
Questions? Visit www.franklinma.gov/stormwater-division, check out our contest website at https://www.thinkbluemassachusetts.org/thinkbluefranklin or contact Anne Marie Tracey by email at traceya@franklinps.net
Have fun and good luck!
#ThinkBlueFranklin Contest starts - get your camera ready!
Tuesday, July 14, 2020
"Coming next week! Stay tuned to learn how to participate and enter to win great prizes!!!!

@waterwords #stormwater #learn #educate #fun #cleanerwater #thinkbluefranklin"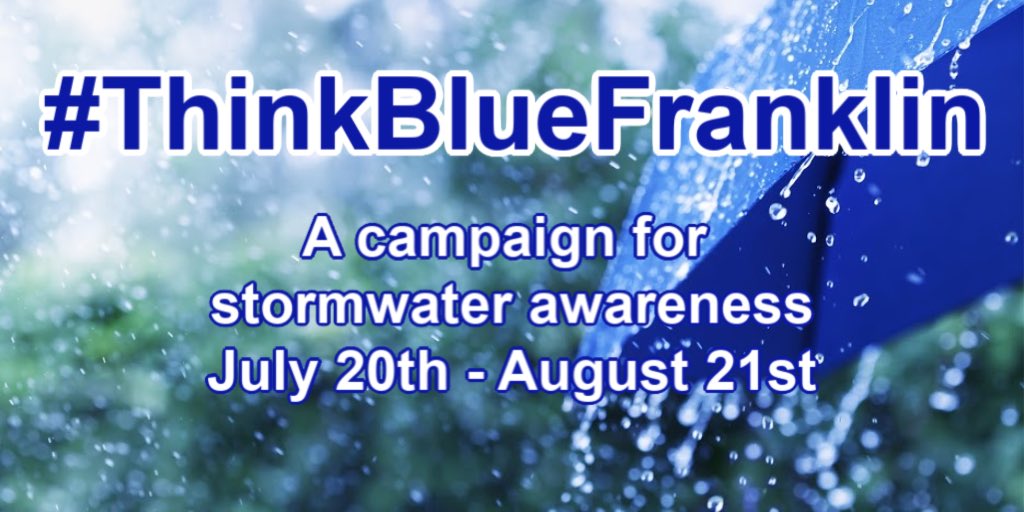 #ThinkBlueFranklin - a campaign for stormwater awareness - begins week of July 20
Franklin radar picked this up via Twitter
https://twitter.com/TOFranklinMA/status/1282733373430145024?s=09