"In a decision blasted by South Shore lawmakers as reckless, irresponsible and dangerous, Gov. Charlie Baker's administration on Friday approved air quality permits for a natural gas compressor station in Weymouth, with state environmental regulators concluding the Enbridge Energy project conforms with air pollution regulations.
The project will support natural gas capacity upgrades and the expansion of a gas transmission pipeline system that runs from Mahwah, New Jersey, to Beverly, Massachusetts, for transportation and deliveries on the Maritimes & Northeast Pipeline system. Collectively, it's referred to as the Atlantic Bridge Project, which includes the siting of the compressor station, and which received federal approval in January 2017.
"This reckless and irresponsible decision is harmful to the health, safety and well-being of residents of Weymouth and the entire South Shore," said Rep. James Murphy, D-Weymouth, in a statement released after state energy officials disclosed their decision just before 5 p.m. Friday.
"Generations of residents living in the Fore River basin have been burdened by industrial pollutants. These industries once supplied much-needed jobs to the area, while simultaneously poisoning the earth, water and air," added state Rep. Ronald Mariano, D-Quincy. "Now, Enbridge plans to expose current and future generations of Quincy and Weymouth residents to a new source of toxins, all in the name of padding the profits of a multinational energy corporation. With today's decision, Enbridge is one step closer to succeeding."
https://www.milforddailynews.com/news/20190113/baker-oks-air-permits-for-natural-gas-project
Given the approval provided by Governor Baker, could the Algonquin Pipeline Expansion come back on the table? It was proposed to run through Franklin. It is still shown as part of the Atlantic Bridge Project. Check the green lines on the map shown.
https://www.enbridge.com/projects-and-infrastructure/projects/atlantic-bridge#projectdetails:project-to-date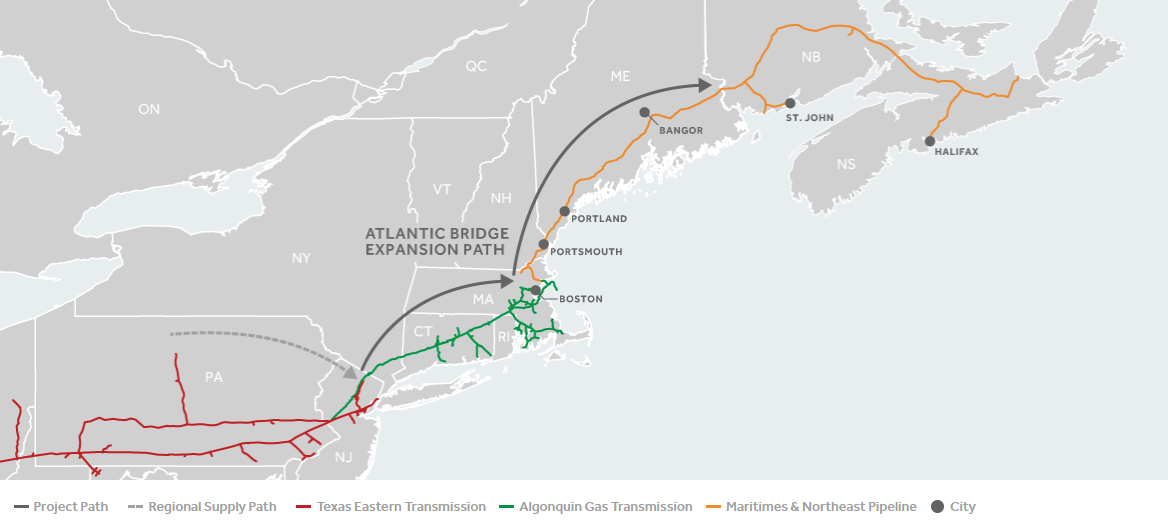 "The Atlantic Bridge Project is designed to provide additional capacity"