Franklin Public Schools, MA (@FranklinPSNews) tweeted on Fri, Mar 12, 2021:
Please find the latest update from Superintendent Dr. Sara Ahern here https://t.co/WBbXxufDNr
Dear Franklin Families,

This week marks the year anniversary of our school closure and pandemic response and it is not lost on me. I want to begin this very important informational e-mail acknowledging the collective efforts across Franklin. First, I am incredibly proud of the efforts of each administrator and educator in the Franklin school system and all of our staff. Our employees are serving students in ways we never could have imagined; we've learned along the way and there has been much adaptation and growth. I also want to recognize your efforts and resilience as Franklin families. Without a doubt, school closure, remote learning, and hybrid instruction has been very difficult on family life. Community organizations deserve our acknowledgment as they have mobilized to support families including the YMCA, Adirondack Club, and the Franklin Food Pantry, among others. Throughout the entire pandemic, there has been strong collaboration between my office and that of the Town Administrator. I feel so fortunate to be the Superintendent in a town with excellent collaboration and I am grateful for the support from the Health, Technology, Facilities, DPW, Fire, Police, and other town departments. I hope everyone in the Franklin community takes a moment to reflect on the year and pat yourselves on the back for the collective effort. We are not out of the woods yet, and continued diligence is important. But there is light at the end of the tunnel.
In summary:
○
Hybrid instruction is being phased out in Districts across the state.
○
Students in grades K-5 will begin full and in-person instruction five days a week on April 5.
○
Our target date for students in grades 6-12 to begin full and in-person instruction five days a week is April 12.
○
The Wednesday schedule is still being worked out but will no longer be fully remote.
○
Parents/guardians will continue to have a remote learning option (see below for level-based information).
○
Students will be in school at distances between 3-6 feet, which will depend on classroom square footage and class size. There will be distancing of 6 feet for faculty and staff whenever possible.
○
Distancing during lunch will be 6 feet.
○
All health and safety practices will be in place: mask-wearing, hand hygiene, symptom screening, ventilation strategies, and daily disinfecting/cleaning. We are also continuing our pool testing pilot; new participants are still welcome to sign up. Please inquire with school buildings on how to do this.
○
Physical distancing restrictions have been lifted on buses, expanding bus ridership capacity. All riders must be masked, hand sanitization will be in place, and windows will be open at least two inches.
○
Attendance requirements will be strengthened and students will be required to be in school for in-person learning. More information will be coming soon.
○
Instruction will be provided for students needing to quarantine. We anticipate larger numbers of close contacts being identified as the standard for close contacts will continue to be based on 6 feet of distance. Cases within the community are trending downwards, however.

K-5 Families

We are not going to survey K-5 families. If your child is in the hybrid learning model and you would like to request Virtual Learning Academy for remote-only instruction, please submit a request in writing to your child's school principal. If your child is in the Virtual Learning Academy and you would like to request a seat for in school learning, please submit your request in writing to the VLA administrator (kaufmane@franklinps.net). Seats in both our current classes and the VLA are limited. Large numbers of requests in either direction may be difficult to accommodate and may require an adjustment of teachers. The deadline to submit a request is 5 PM on Monday, March 15.

Grades 6-12 Families

The middle schools principals are currently collaborating on a survey and will send it to families next week. This survey will ask for a commitment to in-person instruction or remote-only instruction for the remainder of the school year.


High School Families

At this time, the high school is surveying families (
https://docs.google.com/forms/d/e/1FAIpQLScGVRAUw-MavKZUlHbilSsNYmFrsPb0MuZGnmNUpAMlbjcMPQ/viewform?usp=sf_link
) about commitments to in-person instruction or remote only instruction for the remainder of the school year. Returning full and in person with our current schedule is dependent on a percentage of FHS students remaining remote. We appreciate you taking another survey under a new model. Please complete this survey by Wednesday, March 17 by 5 PM. Mr. Hanna will be holding a Q and A session on Monday, March 15 at the PCC meeting 7:30 pm - 8:30 pm.

At this time, we are holding our plans to collapse the 3 cohorts to 2 so that we can focus on a full and in-person return in April.

________________________________________________________________


If you have questions about District policies/practices about reopening, please email our reopening email account: reopening@franklinps.net There will be a virtual "coffee" with the Superintendent at 6 PM on Wednesday, March 17 to answer questions about the overall framework. A link will be sent next week.
Building-based specifics are best addressed by the school administration. They will continue to communicate with you through their regular avenues such as their newsletters and personal communications with you.

More information will be forthcoming about options for childcare through our Solutions program.


Superintendent of Schools
Franklin Public Schools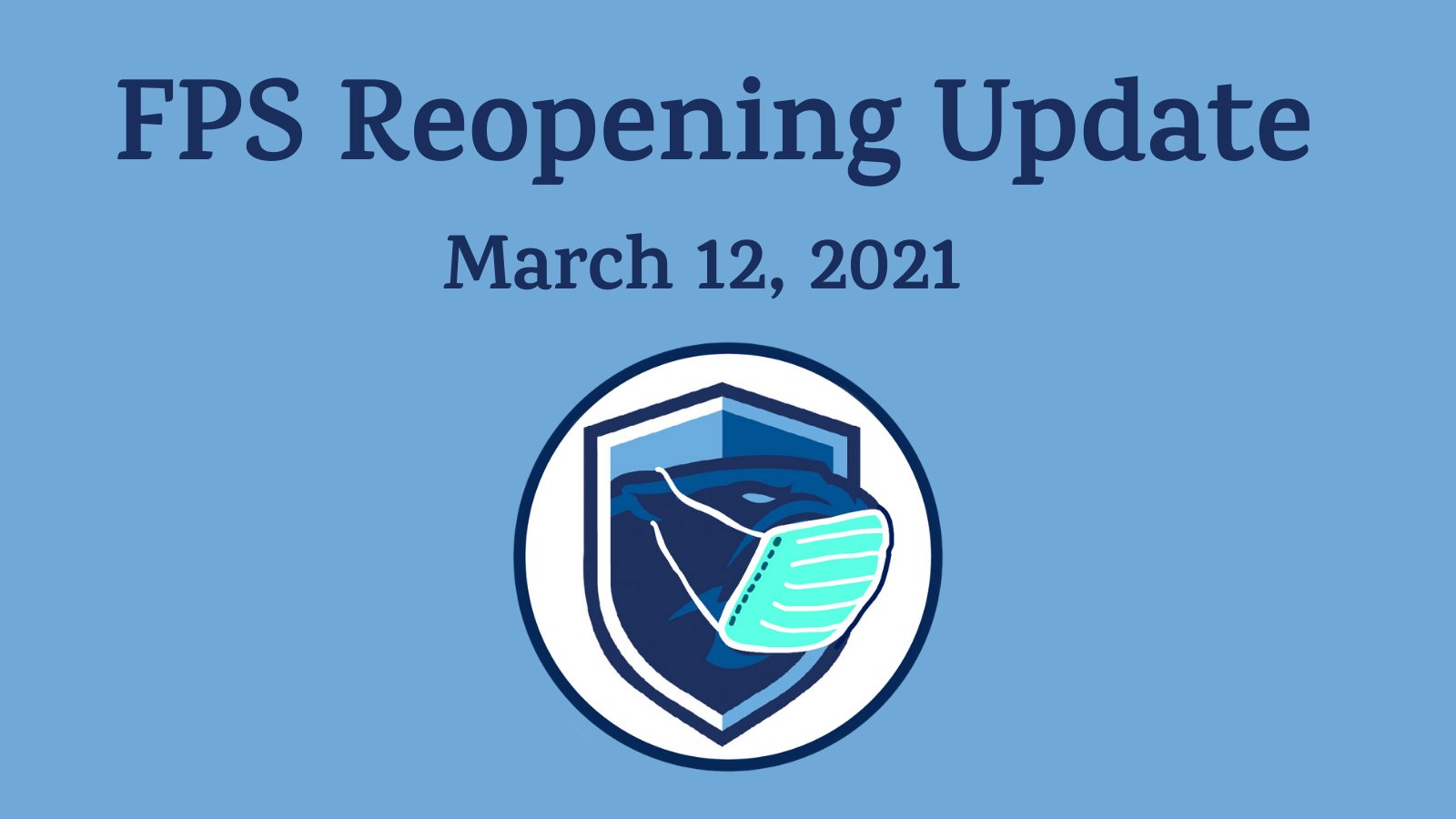 Franklin Public Schools, MA: Reopening Update - March 12, 2021