Baseball = Sharon, 2 @ Franklin, 12 – Final (6 Inn.)
– Locked in a one-run game through three innings, Franklin scored nine runs over the final three innings, punctuated by walk-off grand slam from Eisig Chin, to take a win over Sharon. The visiting Eagles took a 2-1 lead on a bases-loaded walk in the top of the third but Franklin quickly took the lead back with two in the bottom half, added two more in the fourth, one in the fifth, and six in the sixth to end the game. Chin finished 3-for-3 with five RBI and two runs scored while Chris Goode also went 3-for-3 with two RBI and two runs scored to pace the Panthers. Jack Marino and Evan Raider also drove in a pair of runs each for Franklin. Ethan Voellmicke earned the win in relief, tossing two scoreless innings with no hits allowed, three walks, and three strikeouts. Drew Yaffe drew the bases-loaded walk for the Eagles and Will Hippler had an RBI single in the first inning to put Sharon ahead 1-0.
Softball = Franklin, 16 @ Sharon, 0 – Final (5 inn.)
– Franklin pushed across seven runs in each the second and third innings on its way to a big win on the road over Sharon. Marley Allen led Franklin's offense with three hits while Aislinn Lavery, Kiera Kotwicki, and Sarah Boozang each had two hits in the win. Kotwicki also drove in a team-high four runs while Katy Liberman and Julia White each drove in three runs apiece. Kotwicki pitched three scoreless innings with one hit and one walk allowed and Madison Bergeron pitched two scoreless innings in relief.
Girls Lacrosse = Franklin, 16 @ Bishop Feehan, 4 – Final
– In a battle of unbeatens, Franklin rolled to a big win over Bishop Feehan with a dominating performance on the road. The Panthers built an 11-3 lead by halftime and didn't allow a second half goal until three minutes left in the game as Brigid Earley had five saves in net and Anna Grasso played well defensively. Kaitlyn Carney paced the offense with six goals and two assists, Katie Peterson (three assists) and Kate O'Rourke each had a hat trick, Kenzie Baker added two goals, and Jackie O'Neil (goal, assist), Lindsay Atkinson (goal, assist), and Stella Regan (two assists) each had two points apiece.
Boys Tennis = Sharon, 4 @ Franklin, 1 – Final
– In a battle of undefeated division leaders, the Davenport-leading Eagles of Sharon handed Franklin its first loss of the season. Sharon secured the victory with a pair of wins from both singles and doubles action for a 4-1 verdict. Alex Budovalcev earned a 6-3, 6-1 win at second doubles and Jacob Slavsky added a 6-0, 6-0 sweep at third singles. The team of Mitch Weiss and Ruemon Bhattacharyya overcame a one-set deficit to emerge with a hard-fought 4-6, 7-5, 6-3 win. The team of Sava Kassev and Hyojae Park also prevailed in three sets, taking a 6-4, 4-6, 6-4 win at second doubles for the Eagles. Franklin's Vayshnav Malhotra earned a 6-2, 6-3 win at first singles.
Girls Tennis = Franklin, 0 @ Sharon, 5 – Final
– The Davenport-leading Eagles of Sharon swept all five matches, handing Kelley-Rex leading Franklin its first Hock loss of the season. Navya Shukla took a 6-1, 7-5 win at first singles, Ale Aguilar added a 6-3, 6-0 win at second singles, and freshman Judy Song prevailed 6-0, 6-0 at third singles for the Eagles. The team of juniors Abby Vilk and Sophia Oh earned a 6-4, 6-1 win at first doubles and the Eagles got another point from freshman Olivia Landstein and junior Ellie Zhao at second doubles (7-6 [5], 6-0).
For other results around the Hockomock League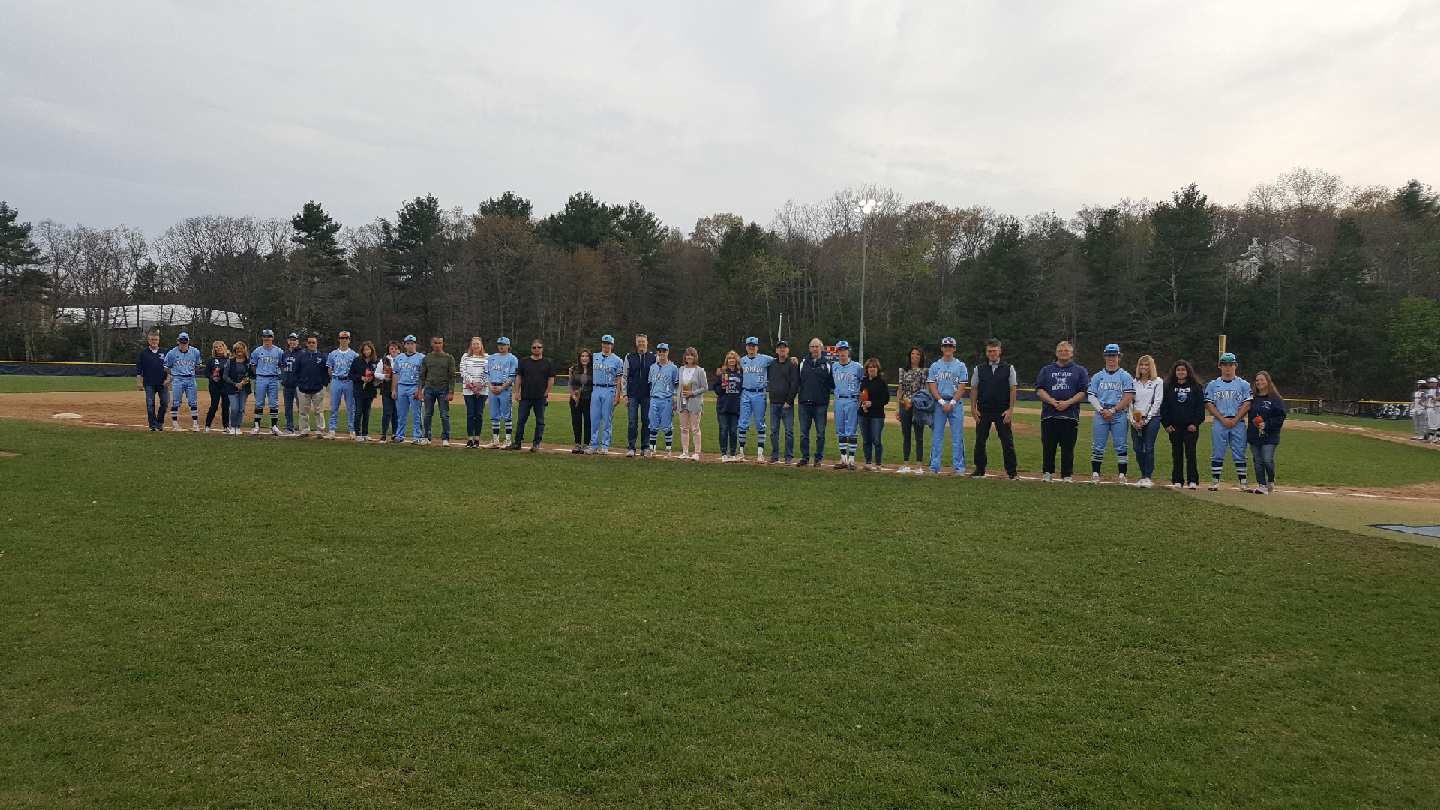 congrats to our seniors that all contributed! #2, #3, #6, #7, #8, #13, #15, #16, #17, #21, #24 & #29!