LAST 2 WEEKS IN REVIEW
OCTOBER 3 - OCTOBER 14
I'm your representative in Congress, and I write to keep you informed.
On the Hill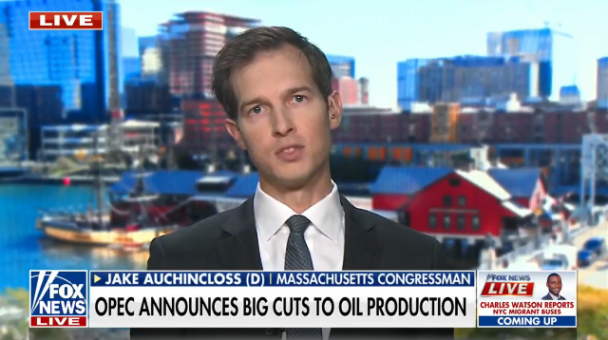 Energy Prices: Last weekend, I discussed rising energy prices and the need to transition to clean energy independence on Fox News. Instead of relying on oil from Russia, Saudi Arabia, Iran, and Venezuela, we need domestic clean energy to provide energy security and a healthier planet for future generations. I also highlighted the bipartisan initiative I have led in Congress to support the G7's price cap on Russian oil, to reduce prices for American consumers and to deprive the Kremlin of hard currency for its illegal war.

Further, I am keenly aware that our district is struggling with increased costs to heat our homes this winter, with some households facing as much as a $500 increase over last winter. To mitigate these high energy costs, I have continuously supported funding for the Low Income Home Energy Assistance Program (LIHEAP). This program assists eligible low-income households with their heating energy costs and provides bill payment assistance. You can learn more about applying for LIHEAP assistance here.

I am also supporting the release of home heating oil reserves in New England.

Ukraine: Earlier this week, the United Nations General Assembly passed a resolution calling on countries not to recognize the four regions of Ukraine that Russia has claimed. The resolution also demands that Moscow reverse course on its "attempted illegal annexation". The resolution passed by a vote of 143 to 5, with 35 countries abstaining.

This vote tally is a thunderous diplomatic win for Ukraine, the United States, and the free world. It also represents a searing defeat for Russia. The U.S. will continue to stand with Ukraine during a long, cold winter. We will stay with Ukraine as long as it takes.

Make your voice heard → I am working in Congress to establish American clean energy independence and, in turn, lower energy prices for American families. Let me know below if you are concerned with the price of electricity and home heating oil ahead of winter.
Are you concerned with high energy prices for this winter?

Around the Fourth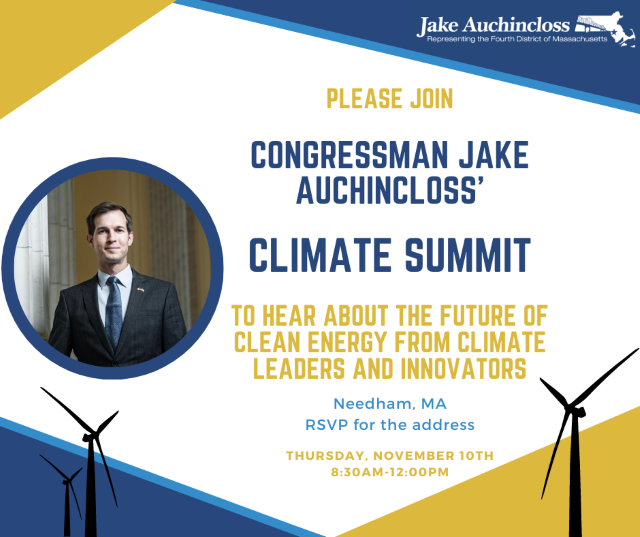 Climate Summit: On November 10th, I am hosting a climate summit in Needham to discuss climate change and the clean energy transition. You are invited to attend. The summit will bring together climate stakeholders from the Massachusetts 4th and beyond to hear directly from leaders in academia, industry, and public policy about their efforts to curb climate change, and how Massachusetts can lead the nation in the transition to clean energy.

Featuring opening remarks by Olin College of Engineering President Gilda A. Barabino, Ph.D., and Former Congressman and Current Citizens Energy Managing Director Joe Kennedy III, the Climate Summit will present three panels that each highlight a different group of climate & clean tech professionals and their leadership in the public and private sectors. Please share this event with your family and friends. Please RSVP by November 1 if you plan to attend. You will be added to a waitlist if we reach venue capacity.

When: Thursday, November 10, 2022, from 8:30 AM - 12:00 PM
Where: Needham, MA (address will be sent a few days in advance to those who RSVP)

Wellesley College STEM Panel: Last week, I celebrated the opening of Wellesley College's new Science Complex. I spoke on a panel titled "Changing the Face of STEM," which focused on the importance of having more women, including women of color, in the science and technology fields. As the son of a trailblazing woman scientist, I am a committed champion of diversity in STEM to narrow the gender pay gap, ensure a diverse and talented STEM workforce, and to prevent biases in these fields and the products and services they produce. You can watch the full panel here.
Sincerely,

Jake
WASHINGTON
15 Independence Avenue SE
1524 Longworth HOB
Washington, DC 20515
Phone: (202) 225-5931

NEWTON
29 Crafts Street
Suite 375
Newton, MA 02458
Phone: (617) 332-3333

ATTLEBORO
8 North Main Steet
Suite 200
Attleboro, MA 02703
Phone: (508) 431-1110