"I took quite a lot of photos on my phone when I was in Ukraine this year, but this one jumped out at me as I was scrolling through them. Here we have Dante – the Italian poet, philosopher, writer – with his marble head poking up out of the sandbags. It's in a park on Volodymyr Hill in the centre of Kyiv.




It's not just an arresting image. Dante is a harbinger of the Renaissance; he's a symbol of culture and learning. And that is the opposite of war, which is a regression to dark times. This is what Ukraine and Kyiv are having to labour under – and so Dante finds himself stifled by sandbags. Of course, one also thinks of the Divine Comedy and the seventh circle of hell, which is violence. That's what the people of Ukraine have been enduring: a modern circle of hell.




The fact that Dante had to be covered with sandbags tells you everything – the Russians are attacking things that are nothing to do with a military campaign. That is a particular hell, when civilians are seen as legitimate targets for an advancing army. And as soon as I see this image, all of this floods into my mind."
Continue reading the article at The Guardian ->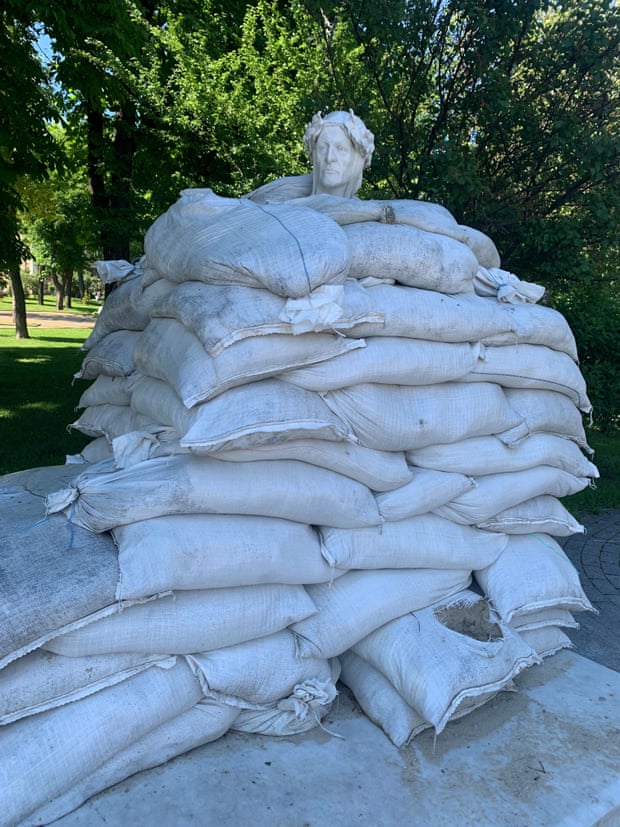 A sculpture of Dante under sandbags in Kyiv, Ukraine. Photograph: Courtesy of Clive Myrie