An earthling gathering and sharing information about what matters in Franklin, MA since 2007. * Working in collaboration with Franklin TV and Radio (wfpr.fm) as of October 2019 *
Tuesday, October 27, 2020
Reason #4 to #ThinkFranklinFirst:
Local support! #localeconomy #smallbusiness #shoplocal #keepitlocal #itmatters
https://t.co/KO3ks83P96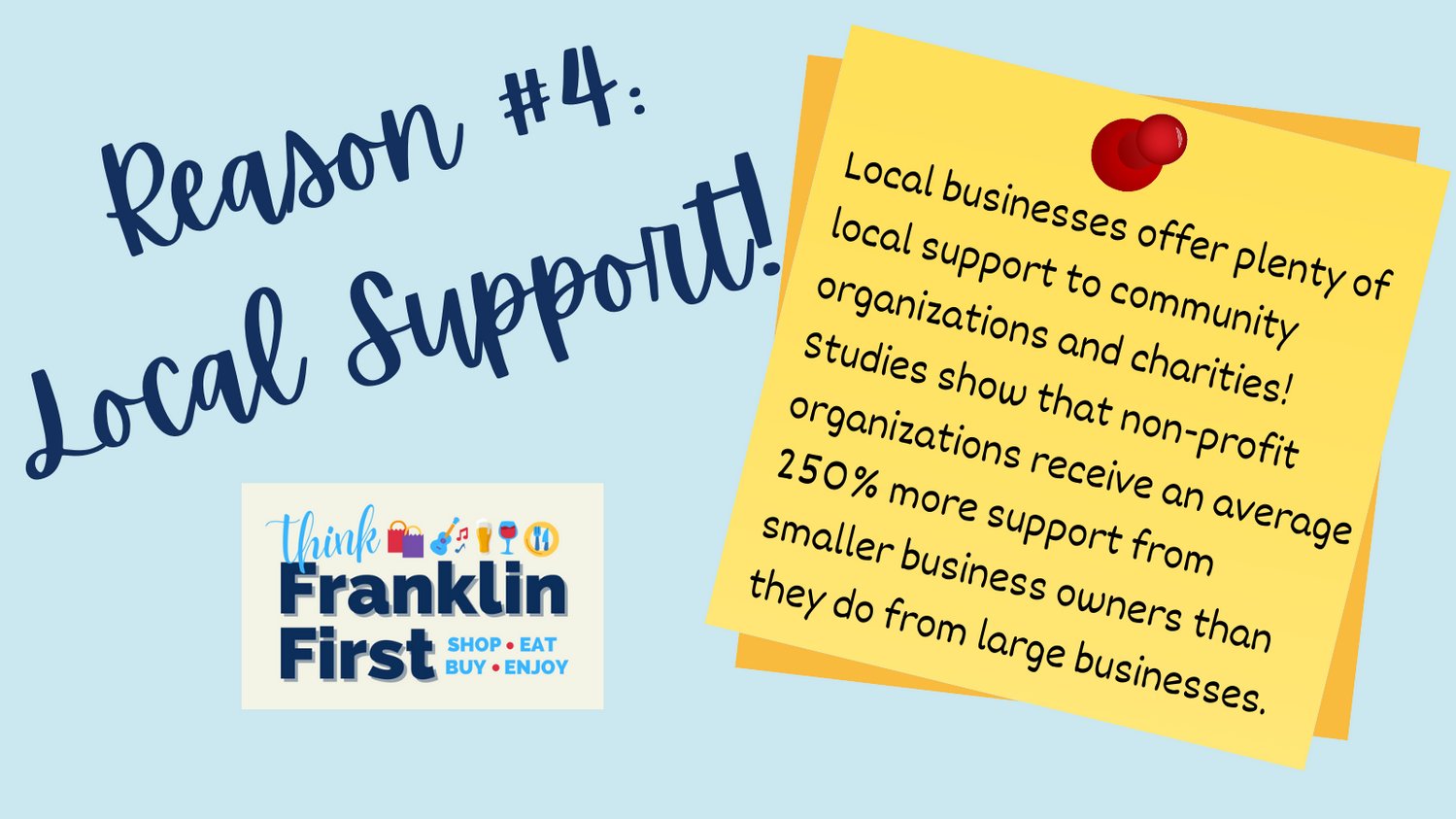 Reason #4 to #ThinkFranklinFirst
Monday, September 21, 2020
Talk about Franklin Matters with our favorite Franklinite, Steve Sherlock. Discuss Franklin and what is going on in our town.
Tuesday Sept. 22 at 10 AM
Monday, March 9, 2020
Catching up to sharing this #ShopFranklinBINGO card
Thanks to Melanie Hamblen for creating this excuse to visit some Franklin retail locations!
"Happy March! Happy #ShopFranklinBingo month. Bring this card with you as you #ShopFranklin for the month of March. Have the shop keeper sign and date the square that corresponds to your purchase. Be creative and most of all have fun!
Turn in one Bingo, or fill up the card. Your BINGO's are entries into raffles. More than one entry is allowed.
Turn the cards in by April 7 for some awesome prizes. Purchases must be from locally owned, independent businesses."
Download your #ShopFranklinBINGO card here or via the embedded file below
https://drive.google.com/file/d/1NdEVKi7WCbh8qwRh_2O3ODnTFSxgcUEJ/view?usp=sharing
B I N G O, and bingo was his name oh!
This was shared from the #ShopFranklin Facebook post
https://www.facebook.com/groups/shopFranklin/permalink/2628373703939800/
Tuesday, November 26, 2019
The Franklin Town Council will hold a Public Hearing on an application by Avocado,Inc. d/b/a Acapulcos Mexican Restaurant, located at 371 Union Street, Franklin, MA for a license modification - change in location.
The hearing will be held on Wednesday, December 18, 2019 at 7:10 PM in the Council Chambers, second floor of the Municipal Building, 355 East Central Street, Franklin,MA.
Information on this application may be obtained in the Town Administrator's Office.
What was the Union Grille will become Acapulcos
This was shared from the Town of Franklin page
https://www.franklinma.gov/sites/franklinma/files/agendas/acapulcos_legal_ad_-_abutters_2.docx_2.pdf
Saturday, November 25, 2017
While American Express helps to celebrate Small Business Saturday, many of us know how important it is to shop local and #shopFranklin all year.
Small Business Saturday is a holiday shopping tradition that happens every year on the Saturday after Thanksgiving.
Founded by American Express in 2010, this nationwide movement helps bring attention to the importance of supporting small businesses in communities across America.
There are plenty of small business to
wisely
spread your dollars around.
View the Franklin map to see the small businesses identified by American Express
https://www.americanexpress.com/us/small-business/shop-small/maps/near=Franklin,MA,02038/cl=42.0697133,-71.38836350000001?linknav=us-open-shopsmall-globalheader-map&lang=en-US
Small Business Saturday - Nov 25, 2017
Saturday, August 9, 2014



WMRC Weekends!

Live and Local Programming!




The Neighborhood - Saturdays at 7:30am

Host - Wendy English

Helping buyers, sellers and agents navigate the ever changing real estate arena. What's happening in the real estate market is the favorite subject of this upbeat real estate program.

Learn More »




Saturdays With Sally - Saturdays at 8am

Host - Sally Alexander

Window fashions and decor for the home and soul! New and exciting products that are available, the history of products, how to hang them and interviews with experts in the decorating industry.

Learn More »




Under the Gun - Saturdays at 8:30am

Host - Harry Jarvis

Keeping you informed on the latest gun related news, laws and safety.

Learn More »




Money and the Law - Saturdays at 9am

Hosts - Jay Marsden and John Drohan

Money, law and a beer review! The important issues that you need to know from a fun point of view.

Learn More »




The Sports Buzz - Saturdays at 10am

Hosts - Matt Romeling and Dennis Alves

Covering local high school sports, local professional sports and local college sports. Plus Milford Legion Baseball Regionals updates.

Learn More »




The Paul Parent Garden Club - Sundays at 6am

Host - Paul Parent

All things gardening... no matter what the season! Paul Parent is a New England staple when it comes to gardening expertise!

Learn More »




The Voice of Portugal - Sundays at 8am

Host - Sandra Caldas Silva

The Greater Milford Area is home to a large Portuguese community. VOP keeps you up to date with events and news and entertains with great Portuguese music!

Learn More »




Listen to these shows and more LIVE and

ON DEMAND in the WMRC Media Center!

| | |
| --- | --- |
| Steals and Deals Marketplace | Save on Local Products From Local Businesses! |


Copyright © 20XX. All Rights Reserved.


Thursday, July 24, 2014
Film Production Company IM Filmworks announces that its most recent film, RIGHT THERE, has been accepted by the Massachusetts Independent Film Festival.

IM filmworks
Producer/Director Nathan Suher says, "RIGHT THERE is a mash-up of several genres. It's a silent film that on the surface is a light-hearted romantic comedy, but at its core it is also a portrait of unrequited love." RIGHT THERE may lack dialogue, but it is not lacking sound. Musician/Composer Kevin Keough was brought on to write the score. "Kevin's score really compliments the overall mood of the film; it's beautiful, yet bittersweet".
"It's an honor to have my film as part of the Massachusetts Independent Film Festival. Being screened with so many other terrific movies gives me a sense of great satisfaction. Knowing that all of the hard work put into this film by our cast and crew is recognized in this important way inspires me to build upon this accomplishment and set loftier goals as a filmmaker," says Producer/Director Nathan Suher.
RIGHT THERE will be screened at the historic Somerville Theater (55 Davis Square, Somerville, MA) on Wednesday, August 6th at 6:20pm as part of the Block 4 screening group.
For more information about IM Filmworks, Producer/Director Nathan Suher, the movie 'RIGHT THERE', and for tickets to the event visit www.imfilmworks.com or www.facebook.com/imfilmworks
Monday, August 6, 2012
Having heard of Uncas Pond
here
and
here
, I decided a needed to go exploring to find it. Sunday was humid. I needed a little extra incentive to run in the heat. I decided that since Uncas Pond was off Summer St, I'd go find it. Finding it would give me an excuse to stop for pictures (and rest as well).
The water looked inviting but it was behind a securely locked fence so I didn't venture forth.
Updated 8/6/12 7:00 PM
The Franklin Rod and Gun Club is located at the end of Florence St. Access to the pond
appears to be via the Club property or one of the neighboring private properties
actually is available from a dirt parking lot on the left of Florence as you approach the end of the road.
Access is outlined on this photo:
My thanks to Franklin Matters reader Rich for the correction and photo!
For more information on the Franklin Rod and Gun Club, you can visit their website
http://franklinrodandgun.org/
BTW - According to their web page, they are still looking to find "Declan F". Declan won the 12 and under trophy for their recent tournament and left without getting the trophy!