UPCOMING WORKSHOP = Decoding the Kid Behind the IEP: A Quick Guide
WHEN: Thursday, January 16, 2020 at 7 PM – 9 PM
WHERE: Franklin Municipal Building, 3rd floor training room. Take the stairs or elevator to the third floor and head RIGHT!
Do you ever feel overwhelmed when describing your child? You know your child best! But it can be difficult to give people the right information (but not too much info!) to help them understand.
A Face Sheet is a 1-page summary sheet about your child; a simple overview in a friendly format. Face Sheets make it easy to share important info with educators/ care providers/ coaches/ specialists/ extended family members/ etc.
Come join us to create a Face Sheet for your child(ren)! This workshop will be facilitated by Elise Stokes, a parent and educational consultant.
We will also have a special presentation by Directory of Student Services, Paula Marano about Franklin's "Portrait of a Graduate."
This will be a productive and informative evening and we look forward to seeing you!
*Bring a laptop if you have one!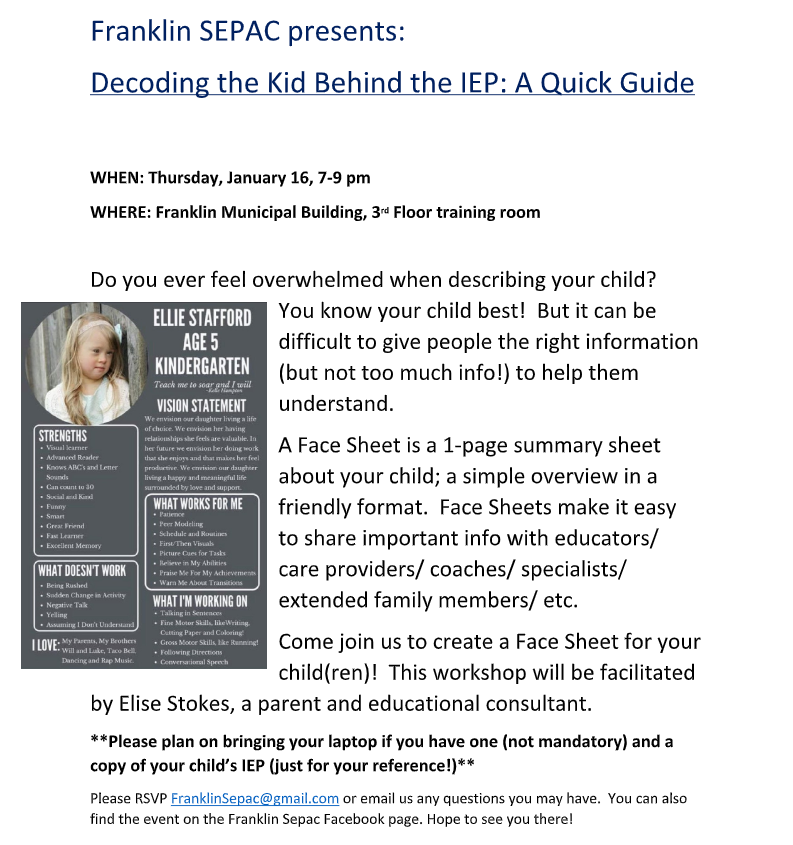 Decoding the Kid Behind the IEP: A Quick Guide - Jan 16
Shared via Twitter
https://twitter.com/FranklinPSNews/status/1216819820597075973
For more about Franklin Special Education Parent Advisory Council (SEPAC)
http://franklinsepac.org/