The weather is so nice and warm, after being confined indoor for winter (and due to COVID=19) it is about time we could enjoy it. Did you know that hurricane season officially starts soon? Alerts started on May 15. The season officially opens June 1.
Sign up for alerts from the National Weather Service (NWS) https://www.nhc.noaa.gov/
Additional info on service enhancements for this season as well as info on the social media accounts to track https://www.nhc.noaa.gov/pdf/NHC_new_products_services_2021.pdf
Oops, we already missed "Hurricane preparedness week" (May 9-15)
"Today, May 15th, marks the first day of routine issuance of the
Atlantic basin Tropical Weather Outlook in 2021. This product


describes significant areas of disturbed weather and their potential

for tropical cyclone formation during the next five days. The

Tropical Weather Outlook is issued from May 15 through November 30

each year. The issuance times of this product are 2 AM, 8 AM, 2

AM, and 8 PM EDT. After the change to standard time in November,

the issuance times are 1 AM, 7 AM, 1 PM, and 7 PM EST.

A Special Tropical Weather Outlook will be issued to provide


updates, as necessary, in between the regularly scheduled issuances

of the Tropical Weather Outlook. Special Tropical Weather Outlooks

will be issued under the same WMO and AWIPS headers as the regular

Tropical Weather Outlooks.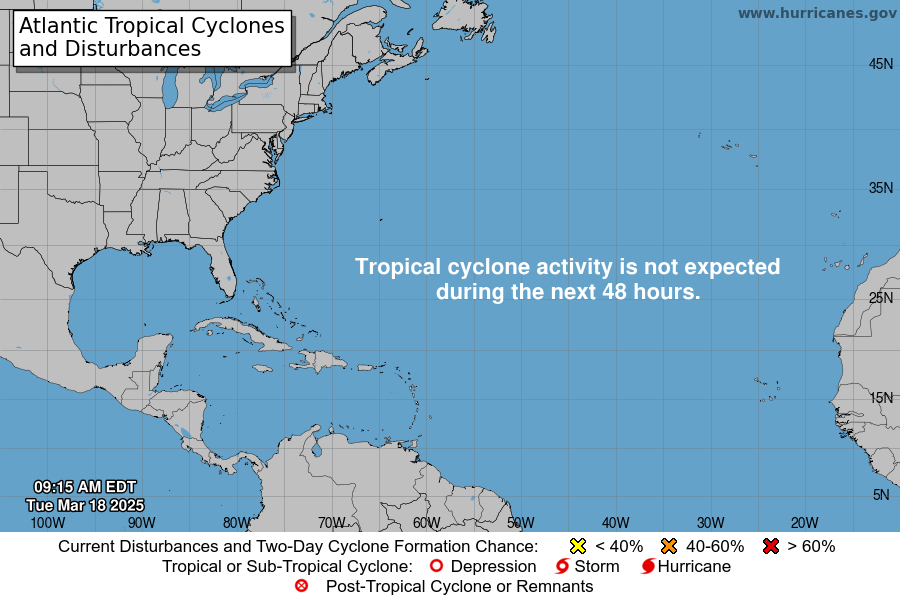 There are no tropical cyclones in the Atlantic at this time.