Via @HockomockSports and Twitter we share the results of the FHS fall sports action on Friday, Sep 10, 2021
Football = Franklin, 37 vs. Wachusett, 21 – Final
Boys Soccer = Franklin, 0 @ Canton, 2 – Final
– Canton's Jake McCabe scored for the second straight game and Jacob Crugnale also found the back of the net as the Bulldogs opened their Hockomock schedule with a win over visiting Franklin.
Field Hockey = Canton, 1 @ Franklin, 5 – Final
– Franklin opened the second in style, pumping in a pair of goals in both the second and third quarters, to knock off visiting Canton. Kendall Jones (from Kaitlyn Carney) opened the scoring but Canton's Erin Lane tied the game just two minutes later. Franklin pulled ahead in the second and never looked back; Carney (unassisted) and Jones (from Shaw Downing) scored three minutes apart to give the Panthers a 3-1 lead at the half. In the third, Downing (unassisted) scored less than a minute in and Payton Crandall (from Carney) notched her first career goal to cap the scoring. Megan Sullivan made six saves to earn the win in net.
Volleyball = Canton, 0 @ Franklin, 3 – Final
– Franklin fended off a big challenge from Canton in the final set to secure a 3-0 sweep (25-14, 25-16, 25-23) over the Bulldogs. Cailyn Mackintosh had 20 assists, Lindsey Tarantola recorded seven kills and Cate Roberge had a big game for the Panthers with seven aces and five kills. Sophomore Jess Wright notched 11 kills in her varsity debut for the Bulldogs while freshman Zoe Scibelli played well defensively at libero in her first match. Senior Anna Verille had a great game defensively with 16 digs to go along with four kills and an ace while Taylor Reynolds dished out 21 assists.
Golf = King Philip, 166 @ Franklin, 171 – Final
– King Philip emerged from a key division showdown with Franklin with a close win at Franklin Country Club. Pat Reardon was the match medalist, firing a three-over round of 38 while Mike Matheson chipped in with a 42 for the Warriors. For Franklin, Corey Steel shot a 39 while Tyler O'Brien sank a birdie on the seventh hole to help finish with a round of 42.
"Close match between Kp and Franklin

171 panthers -166 KP

Steel - 39

O'brien- 42

Woelfel -44

Patterson/ Hagardy/ Lampasona- 46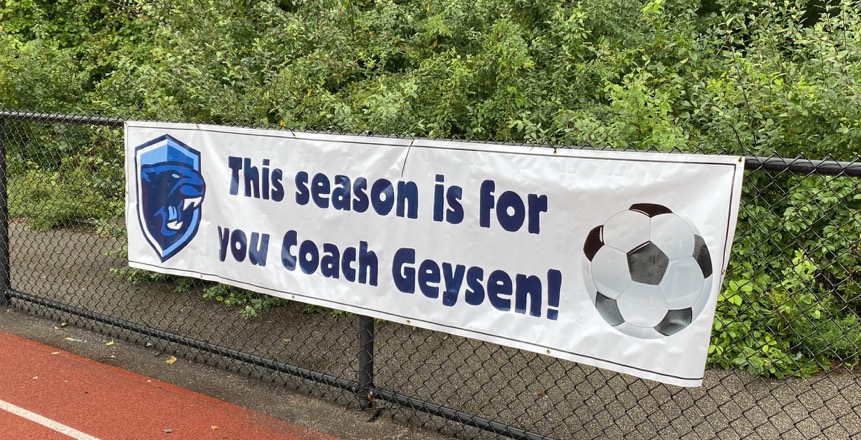 Thank you Signs by Cam for donating this banner to the Girls Varsity Soccer team to honor Coach Geysen!
For other results around the League on Friday