LAST 2 WEEKS IN REVIEW
JULY 4 - JULY 15
I'm your representative in Congress, and I write to keep you informed.

On the Hill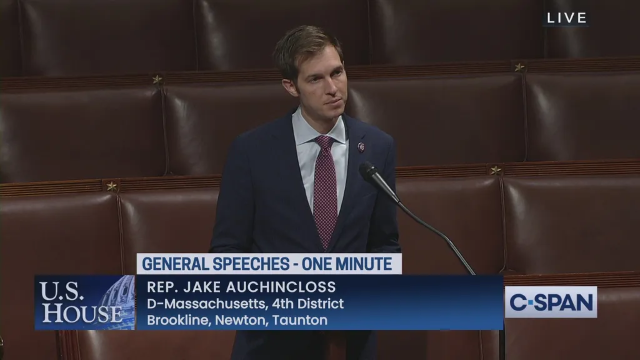 Trip to Israel: I recently visited Israel with a bipartisan group of my colleagues, which I documented with Jewish Insider upon my return. While we were visiting, I saw firsthand the positive impacts of the Abraham Accords, which I have strongly supported since taking office, as well as the Biden Administration's efforts to expand and strengthen them.

When I met with Israeli political and military leaders last month, they emphasized the importance of regional defense and deterrence against Iran's malign activities. That is why President Biden's reaffirmation of the United States' commitment to Israel's security during his recent trip to the region is so important. Saudi Arabia's decision to open its airspace to civilian flights to and from Israel is a significant step toward regional integration and diplomatic normalization. This important step, thanks to President Biden's diplomatic efforts, lays the groundwork for additional economic, cultural, and security ties between Israel and its Arab neighbors.

While I was in Israel, I also witnessed the peaceful – even good-natured – transition of leadership between outgoing Prime Minister Naftali Bennett and incoming Prime Minister Yair Lapid. These two leaders, from different parties, embraced one another and committed to continuing to work for the good of all Israelis. It was yet another testament, to me, of what's at stake with the January 6 Commission here at home.


Immigration: I spoke on the House Floor about the concerning drop in legal immigration from pre-pandemic trends, which has caused further employment shortages across the country. During my conversations with local business owners, I have heard time and time again how difficult it has been for businesses to get back on their feet after the pandemic, primarily due to a lack of workers available to fill open positions. I strongly support any and all measures to make up for the shortfall of 2M legal immigrants, from clearing the visa backlog, to documenting immigrants and Dreamers already in the US, and increasing caps for both immigration and refugee resettlement. This isn't just an economic issue - it's a moral and American issue.


Protecting the Right to an Abortion: On Friday, I voted for the Women's Health Protection Act (WHPA) when it passed in the House. This bill is intended to guarantee equal access to safe and legal abortion for all women following the Supreme Court's decision to repeal a fundamental right and restrict access to abortion. The WHPA guarantees a woman's right to abortion, as well as the freedom of abortion providers to deliver abortion services. Further, the bill prohibits medically unnecessary restrictions that are designed to take the right to abortion away.

I also joined my colleagues in passing the Ensuring Access to Abortion Act in the House. This bill would protect a woman's right to travel to access the reproductive care they need. Specifically, the bill prohibits any person acting under state law from impeding or retaliating against health care providers who provide services to out-of-state residents, any person who travels for such services, and the person who helps them travel. Americans have a constitutional right to travel, including for health services, and this bill will help protect that right.

The Senate should eliminate the filibuster and pass these critical bills to ensure access to abortions for all Americans.


Voting Against the Defense Spending Bill: I am a supporter of a strong United States military. We need to be able to uphold the post-war international order and stamp out humanitarian catastrophes wherever they exist. I also appreciate that this defense budget continues to orient the United States' strategy towards the Indo-Pacific and away from our failed forever wars in the Middle East; however, I opposed this bill for two reasons.

First, the topline funding level is just too high. The Pentagon, like any massive bureaucracy, can do 10 percent more with 10 percent less. I inserted an amendment to force the Pentagon to procure more efficiently and to take a hard look at its personnel and overhead, so that in future years, we can save taxpayer money while maintaining military readiness. We are spending too much money on defense procurement and not getting enough in return.

Secondly, the bill contains a provision that would harm the U.S. offshore wind industry. The southern part of our district has a growing offshore wind cluster and I am fiercely protective of the clean energy, jobs, and economic development that will follow offshore wind development. In addition to voting against the bill, I led 30 of my colleagues in calling on the Senate to remove the provision restricting offshore wind development.

Clean energy is the future. Regardless of what other voices in Washington have to say, I will oppose any bill that pulls us back instead of pushing us forward.


Make your voice heard → Our military spending eclipses that of the ten next-largest militaries combined, and still would if it were slimmed down by ten percent. The Pentagon is the world's largest bureaucracy and – like most big bureaucracies – could tighten its belt and find itself more efficient and effective as a result. The Pentagon, however, is also the most effective lobbyist on the Hill, and therefore too few Members of Congress are willing to cut its budget. Let me know below if you support reducing the defense budget.
Do you support reducing the defense budget?

Around the Fourth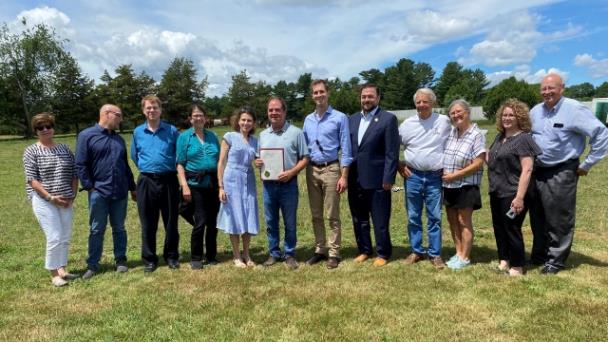 A Visit to Sharon: Last week, I toured around Sharon, visiting a local dairy farm, water infrastructure, and speaking to firefighters and police officers.

Our first stop brought us to Crescent Ridge Dairy Farm to celebrate their 90th anniversary and enjoy some locally made ice cream. I spoke to the third-generation owners about their challenges finding skilled workers due to a lack of immigration, which I also spoke about on the House floor. I was also able to tour the production line and discuss the ways local businesses are working to support each other during these difficult times.

I also thanked Sharon police officers and firefighters for their service during the pandemic, as well as their ongoing efforts to keep Sharon safe. We discussed the urgent need to keep dangerous weapons out of the hands of citizens and how the police force is working to ensure they are able to address emergency situations as they arise.

Gardner Terrace: I visited and spoke at Gardner Terrace, a senior facility in Attleboro. Gardner Terrace will undergo a $23 million renovation, which will ensure that low-income Attleboro seniors have access to high-quality, affordable housing.

As the Vice Chair of the House Financial Services Committee, I will continue to be a committed partner for affordable housing development in our district, our state, and across the country.
Sincerely,

Jake
WASHINGTON
15 Independence Avenue SE
1524 Longworth HOB
Washington, DC 20515
Phone: (202) 225-5931

NEWTON
29 Crafts Street
Suite 375
Newton, MA 02458
Phone: (617) 332-3333

ATTLEBORO
8 North Main Steet
Suite 200
Attleboro, MA 02703
Phone: (508) 431-1110