Providing accurate and timely information about what matters in Franklin, MA since 2007. * Working in collaboration with Franklin TV and Radio (wfpr.fm) since October 2019 *
Thursday, September 9, 2021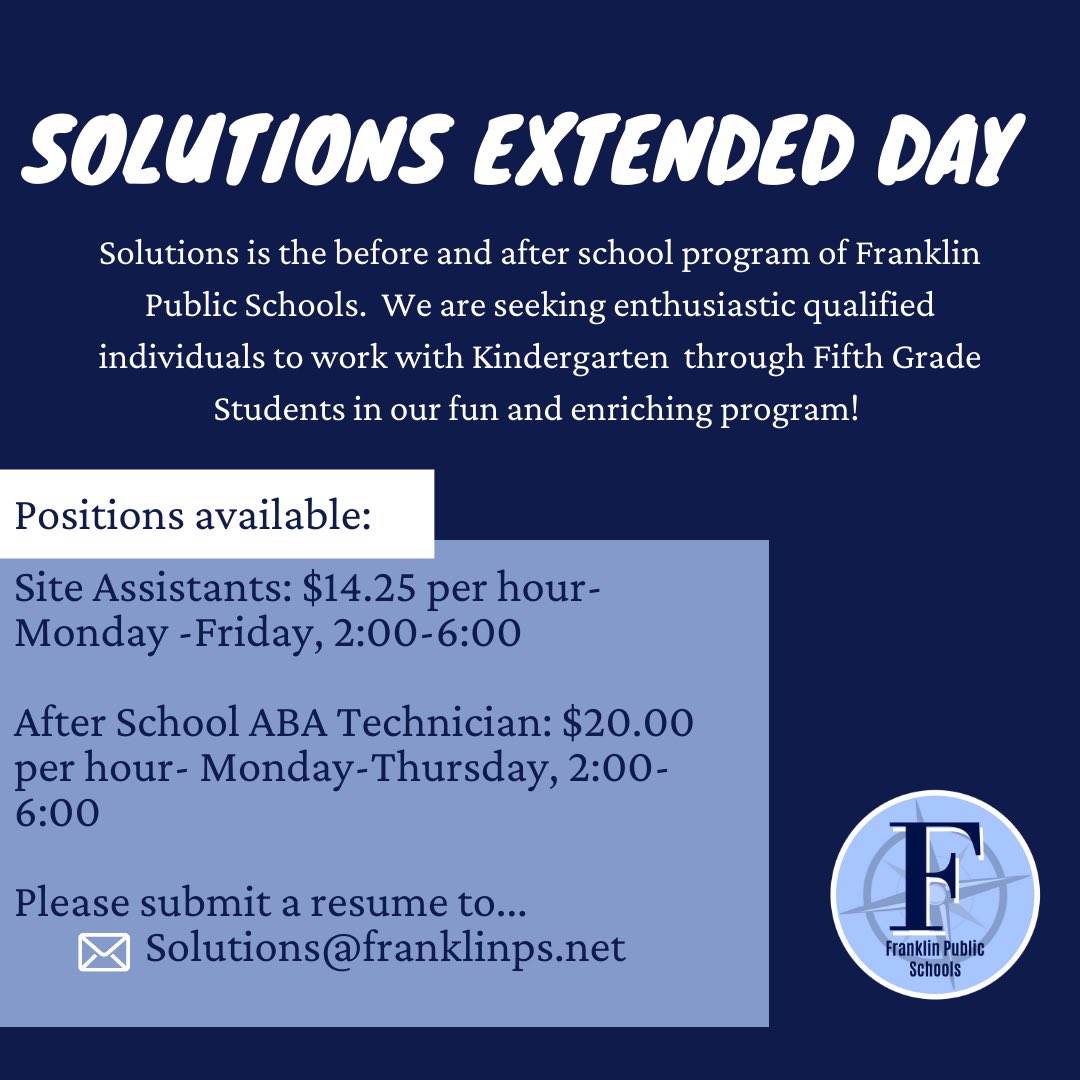 Franklin Public Schools, MA: Jobs open for Solutions Extended Day Program
Thursday, April 1, 2021
Expression Enrichment which is located in the Franklin Village Plaza is offering After School Enrichment Programs in Visual Arts, Performing Arts, Creative Arts, Lego Club, Sewing and Movement & Meditation.
Expressions offers transportation from Franklin Elementary Schools to their studio for an additional cost.

Expression is also having Summer Enrichment Programs for Grades K-6. You can choose a half day option from 9-12 or a full day which runs from 8:30 - 3:30 pm.

For more information and to register visit their website at www.expressions-enrichment.com
Expression Enrichment offers After School Enrichment and Summer Enrichment Programs
Tuesday, December 17, 2019
Tuesday, December 17, 2019
Accelerated Dismissal Called
Dear Franklin Families and Faculty/Staff,
We continue to monitor weather conditions and the forecast calls for some icing to continue in our area this afternoon and then a brief change to snow again between 6-8 PM.
As a result of the forecast, the Franklin Public Schools will begin releasing high school and middle school students in an accelerated fashion on Tuesday afternoon, December 17, 2019, but it will not be on an early release schedule.
Middle school and high school will dismiss 15 minutes early to get the buses on the road. Elementary schools will dismiss at normal times. The thought behind this is that any delays in travel caused by weather conditions may still allow for the elementary students to arrive at home on time and safely.
All afternoon and evening activities for Franklin Public Schools will be cancelled today, Tuesday, December 17, 2019. There will be no late bus service after school.
Solutions families – The Solutions Program will open as usual. Solutions staff are assessing the weather; if a decision is made to close Solutions early, a Solutions staff member will contact each family to advise them of the early closing time.
Sincerely,
The Franklin Public Schools
Franklin Public Schools: Accelerated Dismissal/No Afterschool & Evening Activities for Dec 17
Wednesday, December 5, 2018
December 4, 2018
Many Massachusetts youth await spots in after-school programs
Meaningful activities outside of and after the school day can go far in boosting a child's educational achievement and life outcomes. But many Massachusetts youth that need after-school and summer programs are not able to get into one.
Not all communities and families have the resources to provide enrichment activities to young people. In 2011, the highest-income families across the country were able to spend almost seven times more on out-of-school opportunities than the lowest-income families.
The MassBudget report examines federal and state funding for after-school and summer programs. In the 2016-2017 school year, public entities provided more than $207 million, after adjusting for inflation, for after-school programs. Despite these efforts, children with the greatest needs often lack opportunities to participate in such programs.
The Massachusetts Budget and Policy Center (MassBudget) produces policy research, analysis, and data-driven recommendations focused on improving the lives of low- and middle-income children and adults, strengthening our state's economy, and enhancing the quality of life in Massachusetts.



MASSACHUSETTS BUDGET AND POLICY CENTER

15 COURT SQUARE, SUITE 700

BOSTON, MA 02108
Massachusetts Budget and Policy Center

,

15 Court Square

,

Suite 700

,

Boston

,

MA 02108



Thursday, September 20, 2018
IT'S DESTINATION IMAGINATION SIGN UP TIME!!!
Join us for an information meeting on September 26 at 6:00 PM at the Franklin Public Library to learn more about DI and all that the program has to offer your children.
Franklin Destination Imagination is an after school enrichment program open to all kids from 2nd grade through high school in Franklin, MA.
Also check out www.destinationimagination.org and the brief overview from the website below:
Destination Imagination is an educational nonprofit that prepares children for a future that is rapidly evolving. DI does this through a project-based learning experience that applies the creative process across seven different Challenge types – Technical, Scientific, Engineering, Fine Arts, Improvisational, Service Learning and Early Learning.
For questions or more information email the Franklin Coordinator at di.franklin.ma@gmail.com
Tuesday, May 3, 2016
Franklin School for the Performing Arts (FSPA) launches the FSPA Academy, offered in collaboration with Massachusetts Virtual Academy (MAVA), and FSPA AfterSchool this fall. In partnering with MAVA, FSPA will provide the setting for a complete and creative academic education with a special emphasis on arts, language and culture. FSPA will also introduce FSPA AfterSchool, offering afterschool enrichment and supervision for students in Kindergarten through Grade 5. FSPA Academy and FSPA AfterSchool will be open to any student who wishes to enroll; FSPA music, dance and drama classes are not required for participation. Learn more about these programs at back-to-back Informational Meetings for prospective students and families on Tuesday, May 3 at 38 Main Street in downtown Franklin. The Information Meeting about FSPA AfterSchool will begin at 6 p.m., followed by a session about FSPA Academy at 7:00.
Franklin School for the Performing Arts (FSPA)
The new FSPA AfterSchool enrichment program will offer supervised recreational experiences beginning this fall for the 2016-17 school year. Extend the school day in bright new classroom space next to FSPA's 38 Main Street location. The program begins at the close of the regular school day and continues until 6 p.m., providing a safe environment and engaging community in which to belong. Kids will have the opportunity to work on homework or to participate in games, crafts and other creative arts activities. For students enrolled in FSPA classes, the afterschool option offers a supervised transition from the program to individual singing, dancing and acting classes.
In collaboration with MAVA, the FSPA Academy will offer a nurturing environment and academic home from 8:30 a.m. – 1:30 p.m. Monday-Friday with individually tailored academic schedules. The program will deliver MAVA's Massachusetts State- and NCAA-approved curriculum leading to the MA State Diploma. Students will be guided by a full-time Learning Coach employed by FSPA. Field trips will enhance students' performing arts and cultural interests, and master classes will be held on a variety of subjects for academy students. Music Theory will be taught, with elective credit being given by MAVA. Academy students will have access to FSPA Administration for career and college counseling.
FSPA provides extensive College Prep Services for high school students, including college list, essay, and application coaching, as well as performing arts audition preparation. Director Raye Lynn Mercer and her staff annually prepare high school seniors for college and conservatory auditions, with placement at such prestigious programs as Baldwin Wallace University, Berklee College of Music, Boston Conservatory, Boston University, Carnegie Mellon University, Connecticut College, Eastman School of Music, Elon University, Emerson College, Hartt School of Music, Ithaca College, James Madison University, Manhattan School of Music, New England Conservatory, NYU-Tisch School of the Arts, Oberlin Conservatory, Oklahoma City University, Pace University, Pennsylvania State University, Princeton University, Royal Academy of Dramatic Arts (London), Syracuse University, UCLA, University of Miami, University of Southern California (USC), and Wagner College.
Massachusetts Virtual Academy (MAVA)
Founded in 1985 by Mercer, FSPA has been dedicated to the enjoyment of the arts for all ages and to the artistic growth and development of young people. The school provides classes in all dance disciplines, acting, musical theater, voice, and instrumental instruction, whether for recreational enjoyment or serious study. MAVA offers immersive online learning for grades K through 12 and is the first diploma-granting virtual school in Massachusetts. For more information about MAVA, visit www.Mava.k12.com or call (866) 467-0843. To learn more about FSPA, visit www.FSPAonline.com, call (508) 528-8668, or email Hallie Wetzell at hwetzell@fspaonline.com.