LAST 2 WEEKS IN REVIEW
OCTOBER 17 - OCTOBER 28
I'm your representative in Congress, and I write to keep you informed.

On the Hill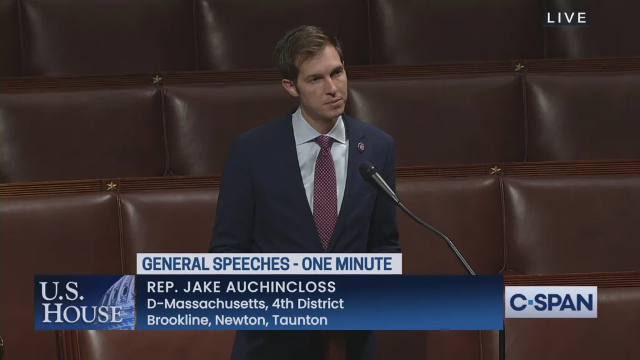 Ukraine: Recently, I criticized a letter sent by a group of progressive Democrats that encouraged President Biden to shift his strategy in Ukraine and negotiate directly with Vladimir Putin. The letter is an olive branch to a war criminal who's losing his war. President Biden's current three-pronged strategy in Ukraine is effective, and we should not blink nor pull back. The first initiative has been focused on sanctioning Russia's central bank, industrial base, and oil exports; the second has been military and economic support for Ukraine; and the final initiative has been strengthening and unifying international alliances, particularly in Europe and East Asia. We must sustain bipartisan support for the people of Ukraine as they fight on the front lines of the free world.

Make your voice heard → I am working in Congress to sustain bipartisan support for the strategic defeat of Russia in Ukraine. Let me know below if you support this approach.
Do you trust President Biden's strategy in Ukraine?

Around the Fourth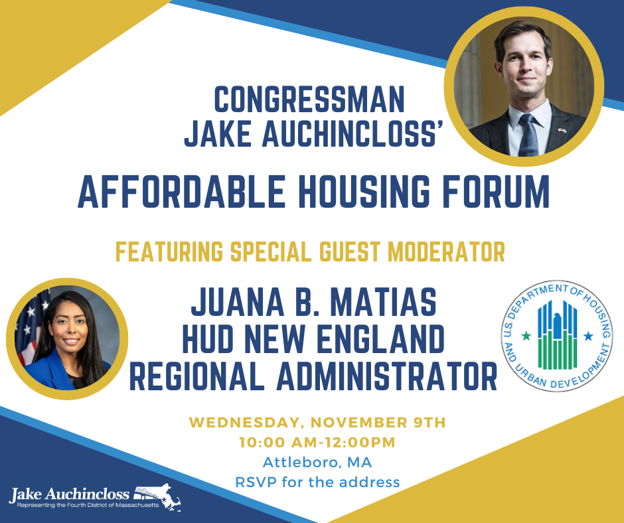 Affordable Housing Forum: I am hosting an Affordable Housing Forum on November 9th from 10:00 AM until 12:00 PM. The forum will feature special guest Juana B. Matias, HUD New England Regional Administrator, who will moderate two panels about current programs and initiatives to foster the creation and preservation of affordable housing in the district.

The first panel will highlight federal HUD programs and the second panel will feature state organizations CHAPA and MassHousing, along with non-profit developer 2Life Communities. Our panelists will present topics on community development, public & multifamily housing, building pro-housing community coalitions, the CommonWealth Builder Program, and examples of successful development of affordable housing.

Please RSVP by November 5 if you plan to attend. My staff will follow up with details, including the name and address of the venue, prior to the event. You will be added to a waitlist if we reach venue capacity. Please feel free to share this event with your family and friends, as it is also free and open to the public.

Climate Summit: As I mentioned in my last newsletter, I am hosting a climate summit in Needham to discuss climate change and the clean energy transition on November 10th. This is your reminder to RSVP by November 5 if you plan to attend. You will be added to a waitlist if we reach venue capacity. This event is free and open to the public, so feel free to share this invitation with your family and friends.

The Climate Summit will feature three panels of experts that address, respectively, climate policy in Massachusetts; clean energy science & technology; and climate diplomacy.

When: Thursday, November 10, 2022, from 8:30 AM - 12:00 PM
Where: Needham, MA (address will be sent a few days in advance to those who RSVP)

Supporting the Life Sciences: Recently, I spoke at Mansfield Bio-Incubator's annual open house. Life science talent is everywhere across the state of Massachusetts, but access to the life science ecosystem is not equally distributed. The Mansfield Bio-Incubator is proof that expanding access across the state is critical to continuing our success as the most innovative state in life sciences. The Mansfield Bio-Incubator will continue to play an important role in leveling the life science playing field by providing affordable first-class lab space and a supportive, inclusive culture of innovation.

Bellingham High School: I visited Bellingham High School's STEM Week showcase and it was so motivating to see the students' projects. My message to the students was two-fold: first, Congress is committed to funding science, with expanded investments in basic research and STEM workforce development. And second, regardless of what vocation they choose, they should apply the essence of science by bringing a mindset of intellectual curiosity and lifelong learning.

Ensuring High-Quality USPS Service: Last week, I met with the Boston Postmaster to discuss constituent concerns about local mail service. In this meeting, I discussed the service delays that some of our district has experienced and brainstormed with the Postmaster on ways to spread the word about employment opportunities in the Postal Service. I am committed to continuing to advocate for high-quality postal service. In Congress, I have consistently supported efforts to improve mail delivery service, including opposing the privatization of the USPS, objecting to proposed slowdowns and rate increases, and calling for the maintenance of six-day mail service and door delivery. I also joined my colleagues in passing the Postal Service Reform Act, which helps ensure the long-term financial stability of the USPS.
Sincerely,

Jake
WASHINGTON
15 Independence Avenue SE
1524 Longworth HOB
Washington, DC 20515
Phone: (202) 225-5931

NEWTON
29 Crafts Street
Suite 375
Newton, MA 02458
Phone: (617) 332-3333

ATTLEBORO
8 North Main Steet
Suite 200
Attleboro, MA 02703
Phone: (508) 431-1110