Baseball = Attleboro, 0 @ Franklin, 10 – Final (5 Inn.)
– Alfred Mucciarone gave up one hit over four innings and Ethan Voellemicke struck out the side in the fifth, as Franklin shut out Attleboro for its second win in as many days. Chris Goode and Evan Raider each drove in a pair of runs for the Panthers. Attleboro's best chance came in the first Nate George drew a leadoff walk and two batters later Danny Johnson hit a sinking liner to right, but Eisig Chin made a stellar diving catch. Franklin took control in the bottom half with four runs. Ryan Gerety led off with a single and Jack Marino was hit by a pitch.
Attleboro failed to handle a pair of bunts and both runners came in to score. Chin drove in a run with a single and would eventually come around to score on a wild pitch. Franklin added three more in the second. One-out walks to Joe Tirrell and Gerety and an infield single for Marino loaded the bases. Goode plated one with a sac fly and Raider followed with a single to bring in two. In the third, Franklin took advantage of a couple errors to add three more runs. Ben Jarosz singled and would score on a wild pitch, Henry DiGiorgio reached on a fielder's choice and scored on an error, and Tirrell walked and came in to score on a sac fly from Goode. Hayden Hagerty broke up Mucciarone's no-hitter to start the fourth but Franklin's starter retired the next three hitters to strand the runner in scoring position.
– Franklin scored once in each of the first three innings and tacked on two key insurance runs in the top of the sixth to get the win on the road over Attleboro. Julia White had a one-out single in the top of the first and came around to score after a fielder's choice and an error to put the Panthers ahead 1-0 but Attleboro answered with a run of its own to make it 1-1. Junior Hailey Fales had a one-out single in the top of the season, and courtesy runner Kelly Moussa scored after White grounded out to second with the bases loaded for a 2-1 lead. Georgia Harvey turned a leadoff single in the top of the third into a run to make it 3-1 before Attleboro made it a one-run game with sac fly in the bottom half. Reece Allen and Moussa came around to score in the top of the fifth for insurance. Aislinn Lavery got the win for Franklin, allowing two runs (one earned) with six strikeouts and no walks. Lindsey Perry was strong in the circle for Attleboro in a complete game effort, with just earned runs allowed with two strikeouts and two walks.
Boys Tennis = Franklin, 5 @ Attleboro, 0 – Final
– Franklin grabbed its second win in as many days, this time sweeping all five matches in straight sets to knock off Attleboro. Vayshnav Malhotra and Thomas Broyles both won 6-0, 6-0 at first and second singles, respectively, while Drew Mahoney earned a 6-1, 6-1 win at third singles. The team of Tim O'Keefe and Ahan Shetty battled for a 7-5, 6-4 win at first doubles while Sameen Shaik and Jay Gorgas took a 6-0, 6-2 decision at second doubles.

Girls Tennis = Attleboro, 2 @ Franklin, 3 – Final
– For the second straight match, Franklin swept both doubles matches and had a third win from third singles to get the win. Amulya Jayam and Shriya Rasish battled to a 6-3, 7-6 (3) win at first doubles, and Franklin's second doubles team of Chloe Essam and Sydney Tolonen secured a 6-4, 6-1 win. Sarah Schiavo earned his second win of the season, taking a 6-4, 6-4 decision at third singles for the Panthers. Attleboro's Ella Lynch-Bartek won 6-1, 6-0 at first singles while sophomore Maddie Fuscaldo prevailed with a 3-6, 6-2, 6-3 win at second singles.
Boys Outdoor Track = Franklin, 50 @ Mansfield, 77 – Final
– Anchored by double-winners Dana Johnson, Dylan Buchanan, and Charles Newcomb, Mansfield opened the season with a win over Franklin. Johnson won both the long jump (19'7.5") and the triple jump (41'3"), and added second place finish in the 110M hurdles (16.5). Buchanan won the 110M hurdles in 15.5 and won the javelin with a toss of 112'8, and Newcomb won both the shot put (40'6) and the discus (89'0). Other winners for Mansfield included Evan Rawlings (400M hurdles, 58.3), Myles Brown (100M, 11.4), Chris Leonard (1 Mile, 4:49.9), and Chamberlain Guthrie Jr. (200M, 24.4).

Girls Outdoor Track = Franklin, 58 @ Mansfield, 78 – Final
Hard fought loss for the girls today vs Mansfield (78-58). Event winners: Sarah Dumas (100H, 400H), Jill Fenerty (400), Abby Griffith (HJ), and Lily DeForge (Discus) with a school record!

https://twitter.com/FranklinXCTrack/status/1511514863696240644
FHS Sophomore

breaks FHS Discus school record today with a throw of 115'8"! https://twitter.com/fhs_throwers/status/1511496991523713027
FHS v Mansfield girls throwing events- in the discus- FHS! @lilydeforge11 takes first and breaks the FHS school record, @darbynicholson_ takes second with a massive PR and freshman @ChandariaElla places third! Great job ladies!

In the girls shot put. @lilydeforge11 takes second and breaks the FHS sophomore shot put record and @elizabe82032317 takes 3rd!

And finally in the girls javelin, @elizabe82032317 places second in her first meet throwing the javelin and @sarah_dumas_ takes third! https://twitter.com/fhs_throwers/status/1511504372055818242
For other results around the Hockomock League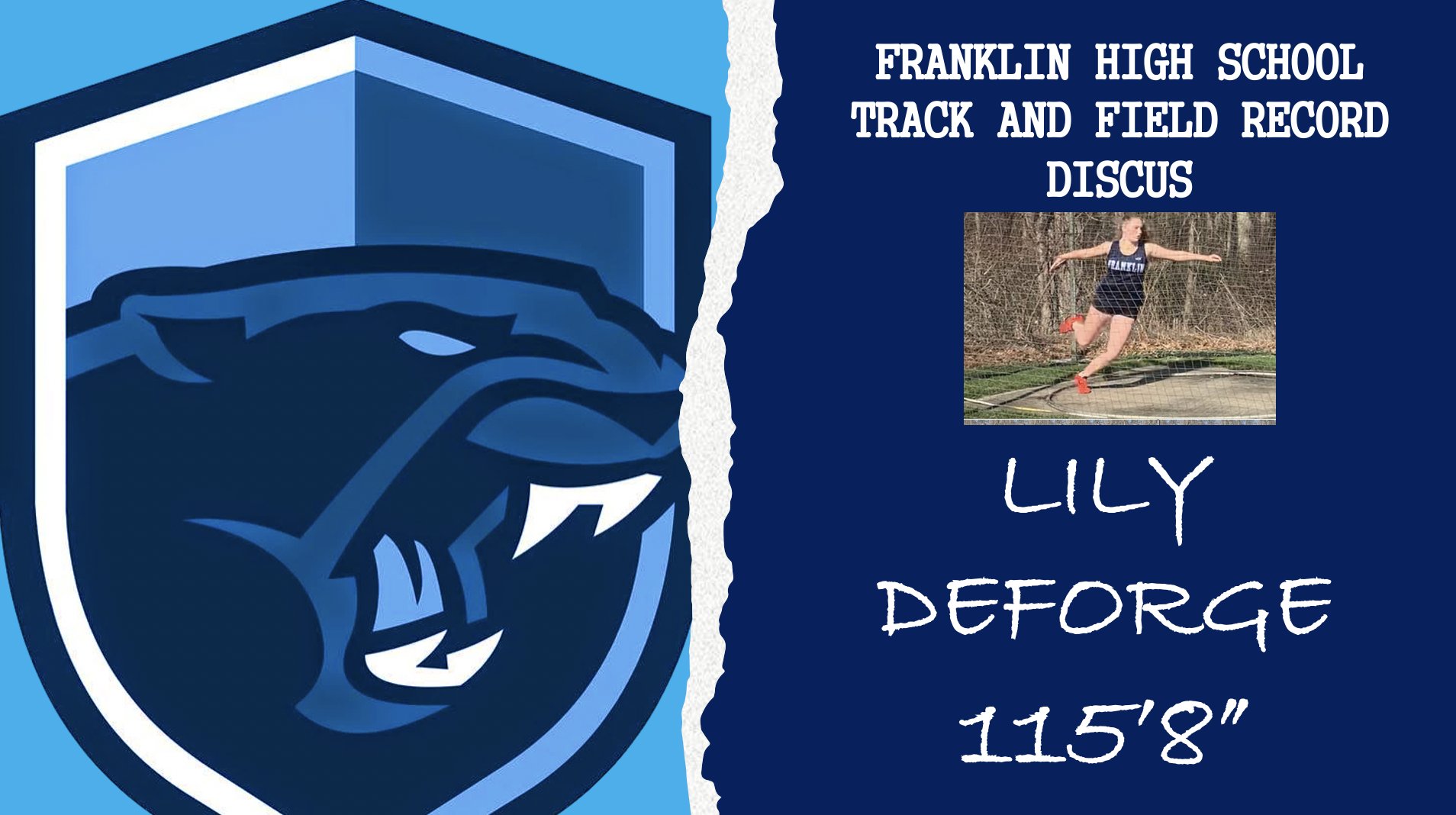 FHS Sophomore
breaks FHS Discus school record today with a throw of 115'8"!