LAST 2 WEEKS IN REVIEW
JULY 18 - JULY 29
I'm your representative in Congress and I write to keep you informed.
On the Hill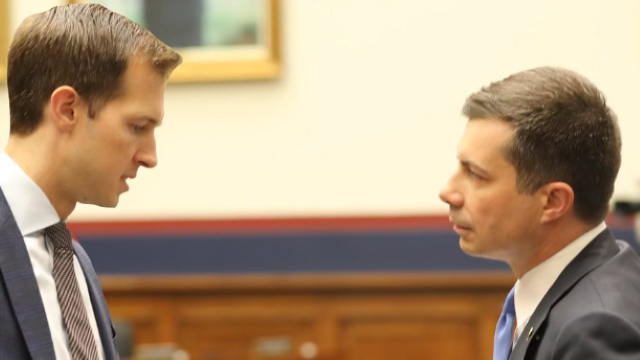 Congressman Auchincloss speaking with Secretary of Transportation Pete Buttigieg about improved infrastructure for walking and cycling
Modernizing Our Transportation: I recently wrote in Strong Towns about the need to change our approach to transportation. The president recently advocated for a gas tax holiday, which would save drivers only a few dollars over a few months. It also does not address the core problem. We don't need a gas tax holiday. We need a gas tax reset: an overhaul of transportation funding. We must free our infrastructure from the grip of big oil and car-centric planning by handing highways over to the states and redirecting the federal gas tax to support cities and towns' Main Street infrastructure. Americans should not need to own cars to thrive in this century. That requires handing the highways over to the states, and redirecting the federal gas tax to infrastructure for walking, cycling, and transit.

President Biden's Visit: Last week, I joined President Biden when he visited Brayton Point in Somerset. Brayton Point is a former coal-fired power plant that is demonstrating the clean energy transition by becoming an offshore wind hub & materials manufacturer. Offshore wind development represents an investment in clean energy, job creation, and meeting the President's climate goals.

During his visit, President Biden highlighted how offshore wind will not only contribute to a clean-energy future, but it will also propel job growth and economic development. Clean energy is the fastest growing job sector in America. These jobs pay well and many will not require a college degree. While the Biden Administration and the offshore wind industry are making strides to bring wind energy on the grid, I am working in Congress to advance legislation to promote further development in Massachusetts and across the Eastern Seaboard.

Expanding Access to Banking: I introduced the Promoting New and Diverse Depository Institutions Act to advance economic equality in our country. This week, my bill passed the House of Representatives as a standalone bill with bipartisan support after having previously passed as part of a larger package. The bill directs banking regulators to work together to address the challenges that new depository institutions face when applying for a bank charter. The bill specifically asks for a strategic plan that takes into consideration the challenges faced by de novo financial institutions, including minority depository institutions (MDIs) and community development financial institutions (CDFIs).

This will help ensure all Americans have access to affordable banking services. Our economy has not always worked for all communities equally and one way to address that is to ensure access to diverse and affordable financial services. These services can help individuals save money and help small businesses raise capital. This bill is a necessary step towards advancing economic equality in our country.

Protecting Fundamental Rights: Last week, I voted in favor of two critical pieces of legislation to protect fundamental rights for Americans: the Respect for Marriage Act and the Right to Contraception Act. The Respect for Marriage Act ensures that all Americans have the right to marry whom they love by making marriage equality the law of the land. The Right to Contraception Act ensures states cannot limit access to birth control.

I will not allow the Supreme Court and Republican legislators to roll back the clock on progress. I urge the Senate to take up both of these bills and codify these critical and fundamental rights.

Make your voice heard → Public transit and improved walkability provide affordable ways for millions of Americans to get around and reduce our decades-long overreliance on cars. This will result in lower costs for commuters, greater access to jobs for Americans, and less pollution of our air and water. Let me know below if you support this transition.
Do you support shifting our transportation system away from cars and highways and towards walking, biking and transit?

Around the Fourth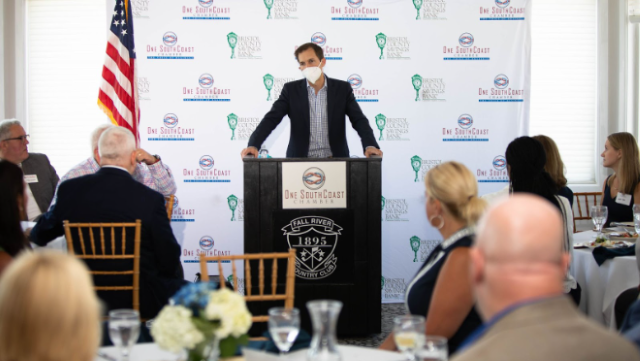 Local Small Businesses: Last week, I spoke at the One SouthCoast Chamber of Commerce in Fall River about the work I am doing in Congress to lower costs. It is critical we invest in our workforce and supply chains, as well as tackle geo-economic drivers of inflation, so small businesses can thrive. We also discussed everything from offshore wind development to the opioid crisis to Medicare. It was truly a pleasure to meet and hear from many of our local leaders and small businesses and I will continue my work in Washington to lower costs for families and businesses at a time when prices are painfully high.
Sincerely,

Jake
WASHINGTON
15 Independence Avenue SE
1524 Longworth HOB
Washington, DC 20515
Phone: (202) 225-5931

NEWTON
29 Crafts Street
Suite 375
Newton, MA 02458
Phone: (617) 332-3333

ATTLEBORO
8 North Main Steet
Suite 200
Attleboro, MA 02703
Phone: (508) 431-1110