Via HockomockSports.com and Twitter, we share the results of the FHS winter sports action on Saturday:
Boys Basketball = Franklin, 74 vs. Burncoat, 55 – Final
End of 1Q:

Franklin 24

Burncoat 13

Halftime: Franklin 35 Burncoat 27

End of 3Q:

Franklin 57

Burncoat 36

Girls Basketball = Franklin, 35 vs. Central Catholic, 54 – Final
– Franklin led 23-20 at halftime but was outscored 34-12 in the second half to end its win streak at 54 games. It was the first loss for the Panthers since the 2019 state semifinal. It was both the most points that the Panthers have allowed this season and the fewest points they have scored. Ashley Dinges scored 24 (14 in the third quarter) and Calire Finney scored 18 (12 in the fourth) to lead the Raiders. Katie Peterson scored 10 points for Franklin, including eight in the first half. Stefany Padula (6-of-7 on free throws) and Olivia Quinn both scored eight points in the loss. Franklin will face Bridgewater-Raynham in the consolation round on Sunday.
Fantastic weekend at D1 states. Carlucci placed 6th. O'Leary placed 4th. Dillon placed 8th. Foley placed 7th. Sheridan placed 6th.
Cheerleaders
Congratulations to our Varsity and JV Cheer teams! Varsity 1st place and JV 2nd place at the Bellingham Invitational!!!!
Indoor Track -D1 Championships
FHS Girls Track Team MIAA D1 T&F Championship Results. 55m hurdles Dumas 4th place setting the FHS Sophomore Record. HJ-Fraulo (12) 3rd , Shot put-DeForge (10) 7th. 4x200-6th,4x400-3rd. The relay members were Fenerty (12), Cliff (10), Dumas (10), Costa (10), and Cuneo (10).
Congrats to FHS sophomores @lilydeforge11 _ and @darbynicholson_ for competing today at the MIAA Division 1 Championships. Shout out to @lilydeforge11

for placing 7th! Great job!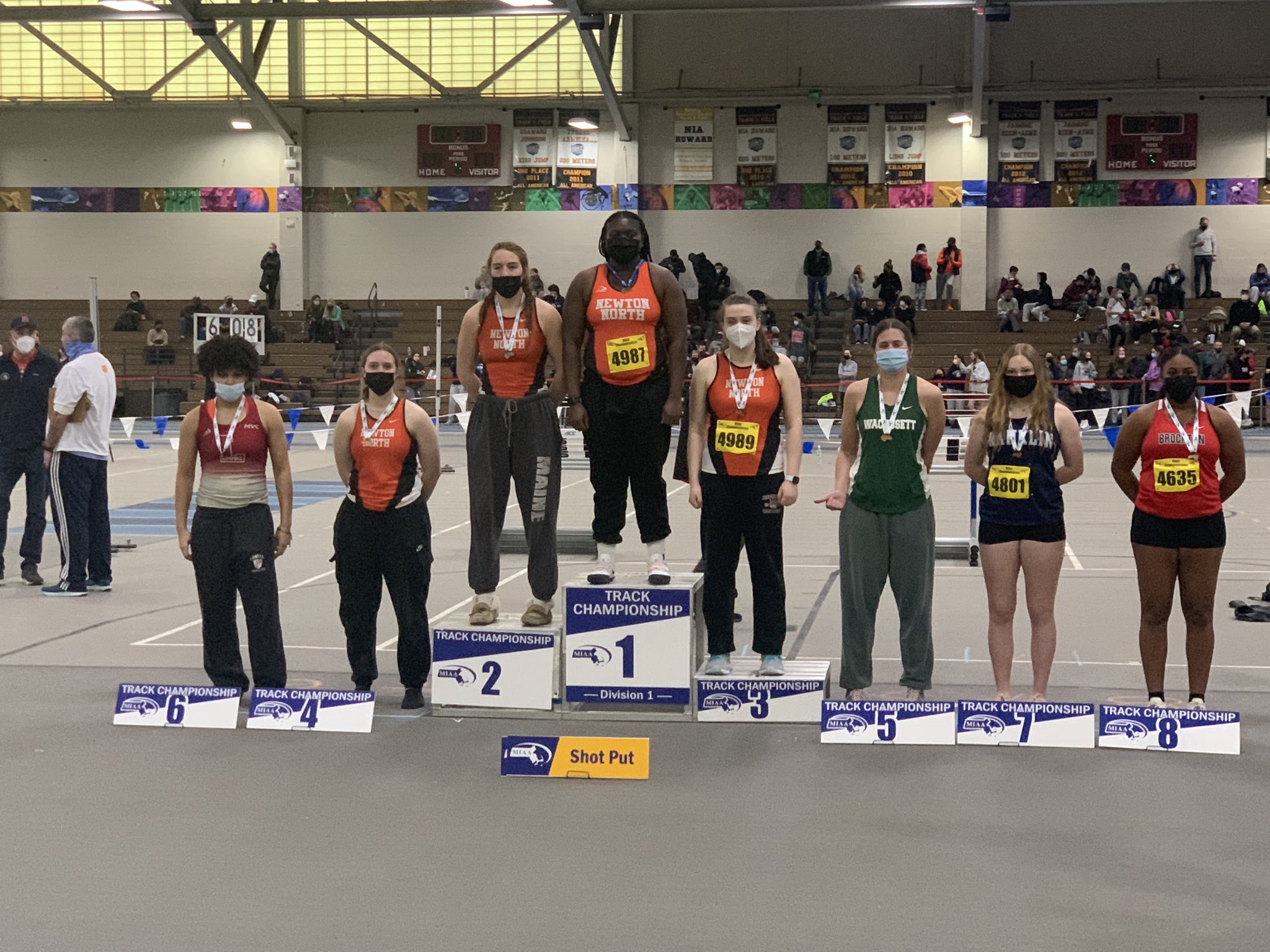 Lily DeForge takes 7th in shot out with a distance of 33' 6.5"