Via
HockomockSports.com
and Twitter
, we share the results of the fall sports competition for
Franklin High School
on Wednes
day, December 28
, 2022. We also provide the link to the full set of
Hockomock League results
below.
Boys Hockey = Franklin, 1 vs. St. Mary's, 2 – Final
Game Results: Franklin 1 St Marys 2 (Shots Franklin 29 St Marys 21)
1st - 3rd period Recap:

From the drop of the puck boys were buzzing. However, Franklin's l't and only goal came 3 minutes into the game when Anthony Lampasona slides the puck to Dan Daley coming through the neutral zone who then walks 2 defenders to dish it to Ban Paterson who snips it bar down to go up 1-0. There was constant pressure and a flurry of shots in the game from Ben Jarosz, Ryan Sicchio and Dylan McEvoy. And Tommy Balducci, Carter Balducci, Jack Wernig, and Patrick Daley applied a great forecheck resulting in some quality opportunities as well. However, the main theme was St Mary's goalie Anthony Palmer time and time again keeping St Mary's in the game with some amazing goaltending.
Defensively, Logan Marchand and Vinnie Pasquarosa had some big shots from the point accompanied by several nice hits. While Aidan Kuykendall, Liam O'Rielly and Carmine Iannuzzi

provided a heavy dose of defense. In the pipes Colby Wagner had a solid game seeing 211shots.
Overall good puck distribution and unselfishness, few things to work on but things are coming together well. There is a very well-balanced chemistry amongst these players it is fun to watch.
Lastly, a tip of the cap to St Mary's goalie Anthony Palmer, no question he was the difference maker. St Mary's best team we've played yet, solid club.
Franklin takes East Greenwich on Sunday night 1/1 in Franklin for the Home Opener puck drops @7PM.
Girls Basketball = Franklin, 70 vs. Carlsbad (Calif.), 54 – Final
– Franklin had five players score in double figures and dominated on the glass to overcome 32 points from Carlsbad star Madison Huhn and pick up a non-league win and hand head coach John Leighton his 300th career victory. The Panthers jumped out to a quick start, scoring 21 points in the first and building an 11-point lead. Huhn, who is committed to Miami (Ohio), caught fire in the second, with 18 of her team's 21 points to cut the lead down to five at the break. After a nearly even third quarter, the Panthers exploded for 21 points in the fourth to break things open and seal the win. Katie Peterson was the top scorer for the Panthers with 21 points, including seven in the first and eight in the third quarter. Sophomore Chloe Fales added 13 points, knocking down three from beyond the arc, including a pair of triples in the fourth to help Franklin pull away. Bridget Leo scored 11 points, six of them in the first, and Lizzie Newman and Caelyn Leonard each added 10 points.
Ryan Martin has his first article for the Boston Globe reporting on the game
For other results around the Hockomock League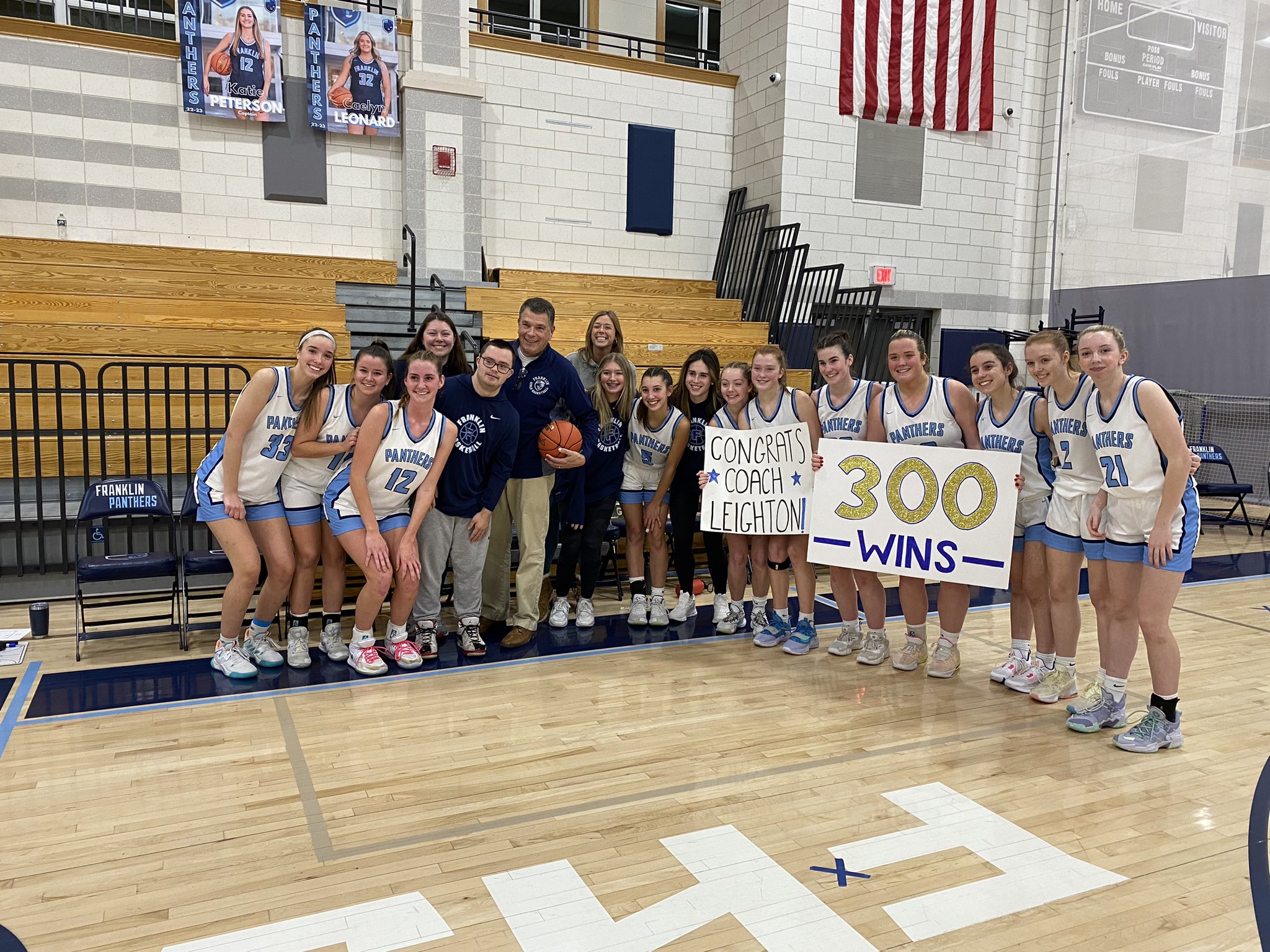 With a win over Carlsbad,
Coach Leighton gets his 300th WIN!! Congratulations