via the New England Patriots:
"With a 28-14 victory over Brockton on Friday Night, Franklin High School's Eian Bain has been named this week's New England Patriots High School Coach of the Week.





Franklin continued to impress in the MIAA Division I South semifinals, taking advantage of a breakout second quarter performance to propel them to a win over Brockton. The Panthers scored 21 points in the second quarter and added another touchdown in the third to separate themselves from the Boxers in the Division I South playoffs for the second consecutive season. The victory snapped a four-game winning streak for the Boxers. Senior quarterback Thomas Gasbarro established himself as a dual-threat in the game, completing 15-of-21 passes for 212 yards and two touchdowns, while adding 35 yards and another touchdown on the ground.





With the win, Franklin High School moved to 7-2 on the year and advanced to the final round of the MIAA Division I South playoffs. They'll look to push their winning streak to five games and capture the Division I South finals title when they face off against Catholic Memorial on Friday night.





Patriots and Pro Football Hall of Fame linebacker Andre Tippett, now the team's executive director of community affairs, met with the Franklin players and coaching staff Tuesday afternoon to present the football program with a $1,000 donation on behalf of the Patriots Foundation, in honor of Coach Bain. The visit and check presentation will be featured on the Patriots weekly television show, "Patriots All Access," which airs on Friday night at 7 p.m. on WBZ-TV in Boston and will be available immediately after on Patriots.com."
https://www.patriots.com/news/franklin-high-school-s-eian-bain-named-patriots-high-school-coach-of-the-week?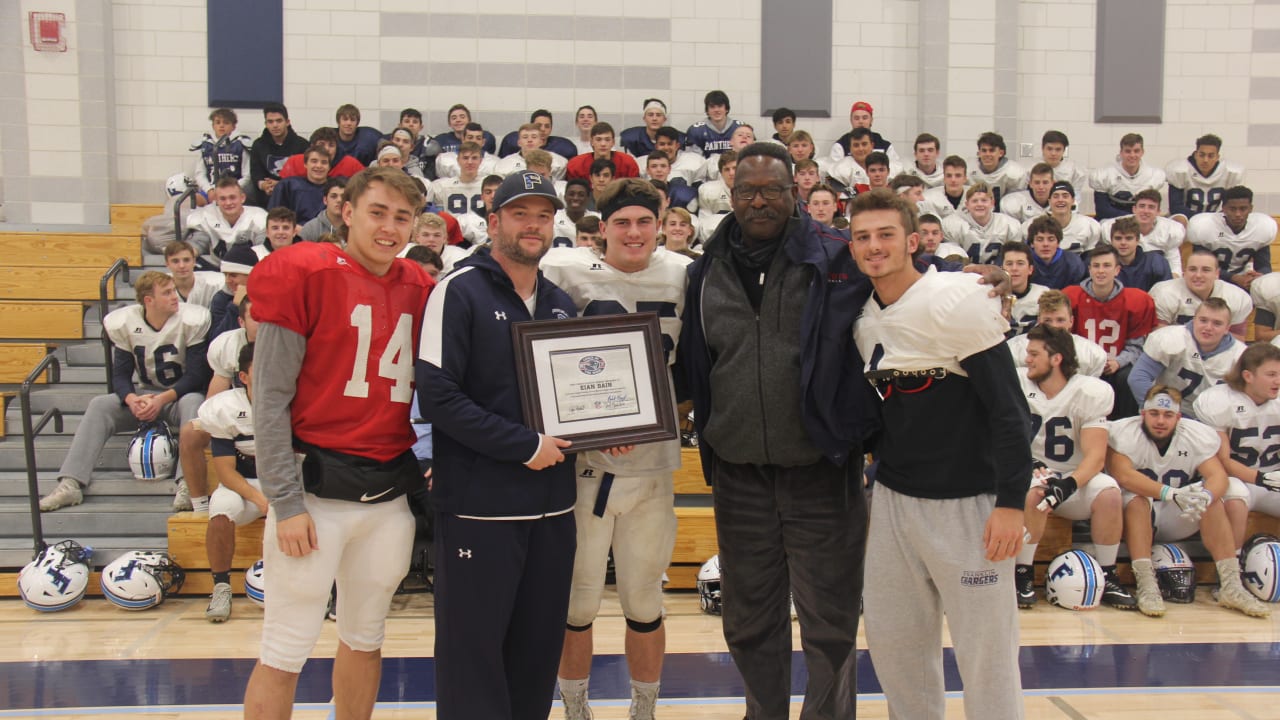 FHSl's Eian Bain named Patriots High School Coach of the Week