Providing accurate and timely information about what matters in Franklin, MA since 2007. * Working in collaboration with Franklin TV and Radio (wfpr.fm) since October 2019 *
Monday, April 18, 2022
An important reminder!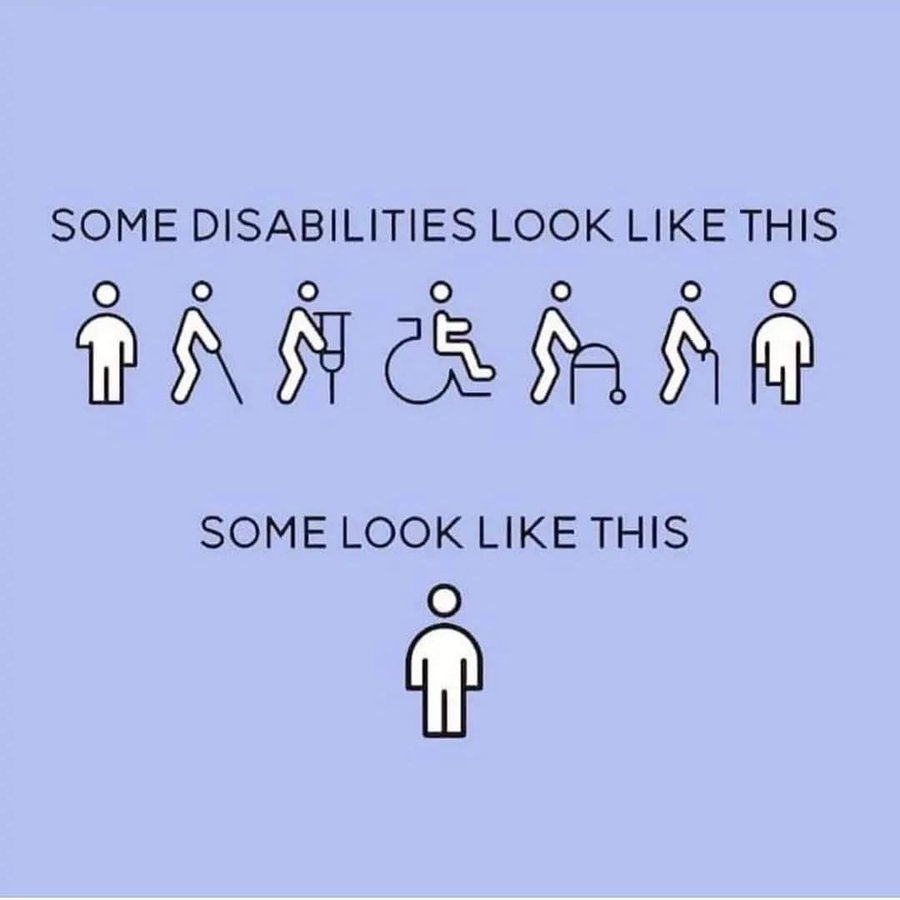 What do disabilities look like?
Thursday, April 9, 2020
FM #242 = This is the Franklin Matters radio show, number 242 in the series.
This session of the radio show shares my conversation with Franklin Police Sgt Brian Johnson. Sgt Johnson is the Public Information Officer for the Police Dept and we had a great conversation via conference bridge to adhere to the 'social distancing' requirements of this pandemic period.
Can you have a conversation about the Franklin Police Dept and not discuss their four-legged star? Listen and hear how we had plenty to talk about; how the FPD is responding during this pandemic, how some personnel assignments have been juggled, how they can find time to help celebrate a birthday, and then the call to action to check on our neighbors (to see how they are faring in this period).
The recording runs about 28 minutes, so let's listen to my conversation with Sgt Johnson and hear about what is happening on the front lines with the Franklin Police Dept. Audio file =
https://www.hipcast.com/podcast/HBCcQh37
--------------
Police Dept page = https://www.franklinma.gov/police-department
Police Dept Twitter account = https://twitter.com/franklinpolice
Police Dept Facebook page = https://www.facebook.com/Franklin-Police-Department-162770995915/?fref=ts
We are now producing this in collaboration with Franklin.TV and Franklin Public Radio (wfpr.fm).
This podcast is my public service effort for Franklin but we can't do it alone. We can always use your help.
How can you help?
If you can use the information that you find here, please tell your friends and neighbors

If you don't like something here, please let me know
Through this feedback loop we can continue to make improvements. I thank you for listening.
For additional information, please visit Franklinmatters.org/
If you have questions or comments you can reach me directly at shersteve @ gmail dot com
The music for the intro and exit was provided by Michael Clark and the group "East of Shirley". The piece is titled "Ernesto, manana" c. Michael Clark & Tintype Tunes, 2008 and used with their permission.
I hope you enjoy!
------------------
You can also subscribe and listen to Franklin Matters audio on iTunes or your favorite podcast app; search in "podcasts" for "Franklin Matters"
FM_#242- Sgt Brian Johnson - Check On Your Neighbors 4/6/20 (audio)
Monday, April 29, 2019
1. A member of the Council, in relation to his/her community should:
A. Realize that his/her basic function is to make policy, with administration delegated to the Administrator.

B. Realize that he/she is one of a team and should abide by, and carry out, all Council decisions once they are made.

C. Be well-informed concerning the duties of a Council member on both local and state levels.

D. Remember that he/she represents the entire community at all times.

E. Accept the office as a means of unselfish service, not benefit personally or politically from his/her Council activities.

F. In all appointments, avoid political patronage by judging all candidates on merit, experience, and qualifications only.

G. Abide by the ethics established by the State and not use the position to obtain inside information on matters which may benefit someone personally.
2. A member of the Council, in his/her relations with administrative officers of the Town, should:
A. Endeavor to establish sound, clearly defined policies that will direct and support the administration for the benefit of the people of the community.

B. Recognize and support the administrative chain of command and refuse to act on complaints as an individual outside the administration.

C. Give the Administrator full responsibility for discharging the duties of his/her office.
3. A member of the Council, in his/her relations with fellow Council members, should:
A. Recognize that action at official legal meetings is binding and that he/she alone cannot bind the Council outside of such meetings.

B. Not make statements or promises of how he/she will vote on matters that will come before the Council until he/she has had an opportunity to hear the pros and cons of the issue during a Council meeting.

C. Uphold the intent of executive session and respect the privileged communication that exists in executive session.

D. Make decisions only after all facts on a question have been presented and discussed.

E. Treat with respect the rights of all members of the Council despite differences of opinion.
Shared from the Town of Franklin page
https://www.franklinma.gov/town-council/files/role-town-council
How to contact your Town Council
https://www.franklinma.gov/town-council
What is the Role of the Town Council?
Tuesday, September 12, 2017
From the
Milford Daily News
, articles of interest for Franklin:
"In response to two incidents late last school year where a swastika was found drawn on the wall of a school building, administrators are taking steps to keep hate out of Franklin schools.
"We knew that when we came back in the fall we would want to revisit this to reassure our students and our families that we are committed to a welcoming and respectful environment," said Superintendent Sara Ahern.
Last school year, there were three separate incidents of the hate symbol being scribbled on walls. The first was found in one of the elementary schools in late winter. In June, two more swastikas were found at other schools.
Though unable to find who was responsible, Ahern said she plans to fight back with education and awareness. Instead of simply erasing the swastikas and putting the ordeal behind them, Ahern is keeping the issue front and center."
Continue reading the article online (subscription may be required)
http://www.milforddailynews.com/news/20170911/franklin-schools-act-against-hatred
flower boxes and positive messages line the walk way to Remington Middle School
Saturday, May 9, 2015
The comment policy was established in Dec of 2007 and it's time for a friendly reminder.
I welcome your comments here at Franklin Matters. To maintain a respectful dialogue, I've posted the guidelines of the comment policy below.
Stay focused. All viewpoints are welcome, but comments should remain on the topic set by the original blog post, discussion question or other type of initial entry.
Be respectful. Ad hominem or personal attacks, profanity, and aggressive behavior are prohibited. Instigating arguments in a disrespectful way is also prohibited.
Tell the truth. Spreading misleading or false information is prohibited.
No spam. Repeated posting of identical or very similar content in a counter-productive manner is prohibited – this includes posts aggressively promoting services or products.
I retain the discretion to determine which comments violate this comment policy.
I reserve the right to remove violations.
I expect all contributors to be respectful.
This comment policy is valid for all discussions hosted on this Franklin Matters website and/or the Facebook Franklin Matters page.
Thank you for taking the time to review our comment policy. I encourage your participation in a healthy and respectful discussion and look forward to an active exchange of ideas.
The comment policy is also located here
http://www.franklinmatters.org/2007/12/comment-policy.html
Sunday, October 9, 2011
TED shares such great ideas. How convenient and timely for them to share this one.

"Conductor Charles Hazlewood talks about the role of trust in musical leadership -- then shows how it works, as he conducts the Scottish Ensemble onstage. He also shares clips from two musical projects: the opera "U-Carmen eKhayelitsha" and the ParaOrchestra".

Charles talks about how his job as a conductor depends upon trust with his orchestra: "an unshakable bond of trust born out of mutual respect"

I trust you. You can watch this and connect the dots.



Enjoy the music!