Providing accurate and timely information about what matters in Franklin, MA since 2007. * Working in collaboration with Franklin TV and Radio (wfpr.fm) since October 2019 *
Friday, February 25, 2022
Saturday, March 21, 2020
From the
Milford Daily News
,

an article of interest for Franklin:
"Hours and days for early shopping vary depending on the individual store. Shaw's, Big Y and Price Chopper are providing them every day of the week from 6-7 a.m., while Market Basket is offering them from 5:30-7 a.m. on Tuesdays, Wednesdays and Thursdays. Hannaford offers them from 6-7 a.m. on those three days.





Grocery chains throughout the region, including Market Basket, Price Chopper, Hannaford, Shaw's and Big Y, have begun to offer early shopping hours for seniors to help protect them from both coronavirus exposure and the increasing difficulty of securing high-demand products.





Customers aged 60 and over will have first access to food and supplies in the store, with younger patrons asked to come later.





Older people are most at risk of health complications and death from coronavirus, and are encouraged to minimize contact with potential carriers of the virus, according to the federal Centers for Disease Control and Prevention."
Continue reading the article online (subscription may be required)
https://www.milforddailynews.com/news/20200320/area-grocery-chains-carve-out-morning-hours-for-shoppers-60-and-older
Big Y - Franklin, MA
Friday, July 12, 2019
From the
Milford Daily News
, articles of interest for Franklin:
As of Aug. 1, if you don't bring your own bags to Big Y supermarkets in Massachusetts and Connecticut, prepare to break out your coin purse.



Big Y Foods, Inc. announced Thursday afternoon that it moved up its planned elimination of single-use plastic bags at check-out counters, from 2020 to August 2019. Customers without their own bags can pay for paper bags at checkout at 10 cents a pop.





The company owns 80 supermarkets and specialty stores in Massachusetts and Connecticut, including one each in Franklin and Milford.





"Big Y has been complying with single-use plastic bag bans in several Massachusetts communities since 2014," a press release announcing the change said. "Coming off of recent changes to laws in various towns across the New England region, Big Y has moved up its 2020 timeline to eliminate single-use plastic at checkouts in all of its locations in order to streamline operations and to do its part to support sustainability."
Continue reading the article online (subscription may be required)
https://www.milforddailynews.com/news/20190711/big-y-moves-up-plastic-bag-ban-to-aug-1
The MDN article referenced this brief video released by Big Y on how to clean the re-usable bags.
I'll need to re-think about where I keep my supply of bags (curretnly in the car).
Tuesday, February 26, 2019
The Big Y was under construction during 2012 and this collection of photos showed the progress at that time.
or go directly to Flickr
https://www.flickr.com/photos/steve_sherlock/sets/72157629561316680/
Saturday, January 12, 2019
From the
Milford Daily News
, articles of interest for Franklin
:
Plastic bags being eliminated by BIG Y
"In a decision affecting all 70 Big Y supermarket locations across Massachusetts and Connecticut, Big Y Foods, Inc. this week announced it will eliminate plastic bags from checkout counters.
That includes the store in Milford, off Rte. 109 and one in Franklin on Rte. 140.
The company uses 100 million plastic bags at checkout counters each year.
"Single-use plastic bags create an inordinate amount of waste," a press release from the company says. "Big Y recognizes its responsibility to cut down on unnecessary plastic waste that contributes to litter, harms the environment and can endanger wildlife."
The change won't happen until 2020, allowing employees and customers to get used to the idea, and make the switch to reusable bags."
Continue reading the article online (subscription may be required)
https://www.milforddailynews.com/news/20190111/milford-franklin-big-ys-to-eliminate-plastic-bags-in-2020
Recall that some FHS students in 2016 had created an online petition, brought forward a proposal, worked their way through the local legislative process before ultimately getting dismissed by the Economic Development Committee of the Town Council in one of their lesser highlight moments. The students can be happy now.
https://www.franklinmatters.org/2017/11/nearly-60-massachusetts-municipalities.html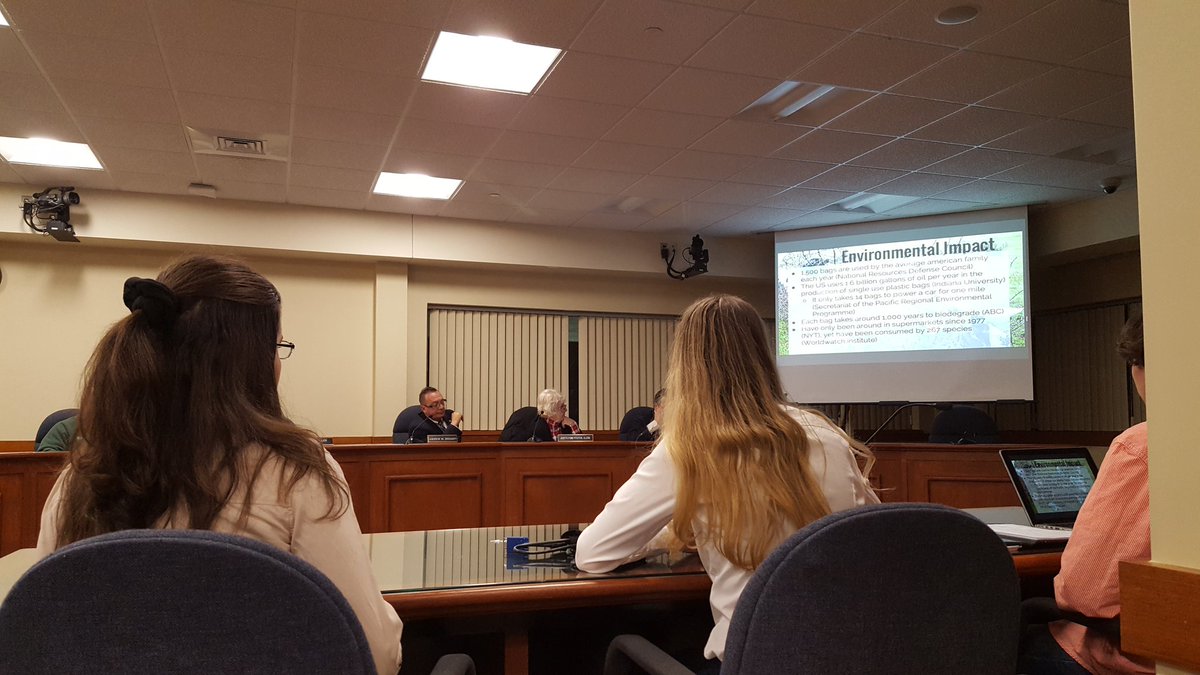 FHS students discussing the proposal with the EDC Nov 30, 2016
Balance of power plays out
"Prosecutors trying to get convictions for people suspected of driving drunk have seen their jobs get much more difficult after a Massachusetts judge ruled this week that Breathalyzer tests cannot be used as evidence in court.
Judge Robert Brennan, who was hearing a consolidated test case that involved more than 400 Breathalyzer exams throughout the state, ruled the tests can't be used until the Office of Alcohol Testing proves it results are accurate.
Brennan's ruling is being hailed by MetroWest defense attorneys as fair.
"I think it's the right decision," said David Levinson, a Framingham lawyer. "There have been so many issues with the various testing devices. There has to be some kind of accountability."
Continue reading the article online (subscription may be required)
https://www.milforddailynews.com/news/20190111/breathalyzer-court-ruling-roils-prosecutors-police
Interesting that many of the Google provided links to the MA Office of Alcohol Testing all end up at the District Attorneys page. There is also this reference but no page link. The office must truly being being rebuilt.
https://www.mass.gov/service-details/forensic-chemistry-sections
Thursday, May 7, 2015
After listening to arguments for and against the request, the Town Council Wednesday granted a liquor license to the Big Y supermarket.
The family-owned chain, which has a location on East Central Street, applied for the town's only available malt and wine license to open one of its Table & Vine shops.
Big Y's application met with some opposition from residents, including the owners of a decades-old local business, who argued that the area did not need another beer and wine merchant.
Continue reading the article here
http://www.milforddailynews.com/article/20150507/NEWS/150507362/1994/NEWS
My notes from the meeting and discussion Wednesday can be found here
http://www.franklinmatters.org/2015/05/live-reporting-license-transactions.html
For a second time in two weeks, police say they thwarted a pair of thieves who were stealing clothing donations, finding one hiding in the locked donation bin.
Kevin Santos, 22, of Brockton, and Valdir Barros, 27, of Central Falls, Rhode Island, were charged Monday with breaking into a depository and trespassing, as well as larceny over $250 after allegedly stealing from a Society of St. Vincent de Paul donation bin kept in a parking lot on Main Street.
Two Brockton men targeted the same donation bin last week, police said, leaving with more than 50 trash bags of clothing.
Continue reading the article here
http://www.milforddailynews.com/article/20150506/NEWS/150507402/1994/NEWS
Last week's article can be found here
http://www.franklinmatters.org/2015/05/in-news-2-men-in-van-arrested.html
Saturday, May 2, 2015
Given that the following resolution was passed in May 2014, did you see any notifications or announcements about a license being available in the past several weeks?
No, neither did some other folks. Franklin announcements are usually posted here:
Why is there a license award coming up for the Town Council meeting on Wednesday?
Or is this the same one that brought about the discussion in March 2014 that lead to the policy?
http://www.franklinmatters.org/2014/03/live-reporting-town-council-mar-5-2014.html
- - - - - - - - - -
TOWN OF FRANKLIN
RESOLUTION 14-36
ISSUING AVAILABLE ALCOHOLIC BEVERAGES (PACKAGE STORE) LICENSES POLICY
Whereas:
The Town Council has asked for a fair and equitable policy for the disposition of available alcoholic beverages (Package Store) Licenses;
Whereas:
In order to provide an opportunity to all potential businesses to compete for an available (either because census results in additional license or existing licensee surrenders license) Liquor or Beer and Wine license, the Town Council wishes to adopt the following process.
• When the Town Administrator becomes aware of an available license he/she shall:
• Give notice to Town Council at the next Council meeting.
• Advertise the availability of the license via the Town Web page and other appropriate means. The advertisement will state the date the applications must be submitted and the hearing date before the Town Council.
• Conduct a hearing at which the applicants will be allowed to make their case before the Council in support of their application.
• Council will make a determination whether a public need exists based on a set of criteria which may include:
o Proximity of existing establishments.
o Will the license be used to enhance the economic development of a neighborhood?
o Impact on neighborhood.
o Is it near a school or place of worship?
o Other?
• Council may determine that no public need exists, not withstanding applicant(s)
- - - - -
The policy was posted on the Franklin webpage here
http://town.franklin.ma.us/Pages/FranklinMA_Admin/licensing/policy.pdf
Franklin Liquors (yes, the one located just down the street from the Big Y) posted this
https://franklinliquors.wordpress.com/2015/05/01/david-vs-goliath-we-need-your-support/
Friday, September 19, 2014
Wednesday, August 6, 2014
Big Y and WMRC want to give you a chance to win tickets to a Red Sox game!
1 lucky winner will receive a 2-pack of tickets to a Red Sox game on August 16th (vs Houston), limo transportation to the game & food for the limo ride!
Register by this Friday!
News, sports, entertainment, events, photos, and more!
Friday, December 6, 2013
We're upgrading our website to bring you more of the features you've been asking for.
Welcome myBigY members
to the New BigY.com!

Hello!

We'd like to introduce all of our MyBigY members to the new

bigy.com

and updated myBigY.

As a member, you know that at Big Y, the customer is Job #1 and we're upgrading our website to bring you more of the features you've been asking for this year.

• clean and bright new design

• easy to navigate

• new recipes with nutritional info

• meal planning information for healthy living

• and coming soon...

Special offers only on

bigy.com

Special deals that load right to your Big Y Express Savings®

or Silver Savings Club® card

In order to continue to offer you great customer service and a fast and

efficient online experience, please reset your MyBigY password in order to keep your information secure and accessible.

Simply click on the link below and continue to take advantage of great service, great sales and an easy way to get both!

UPDATE myBigY now

Thanks for being a myBigY member and for shopping Big Y,

The Big Y Web Team

©Copyright 2013, Big Y Foods, Inc., 2145 Roosevelt Avenue, Springfield, MA, (413) 784.0600

Friday, December 7, 2012
On Day 8 of the "12 Days of Donating", let's continue to look back through the events of the year and see how much we can be thankful for in Franklin.
In August, the Big Y finally opened its doors.
Big Y - Franklin, MA opened in Aug 2012
RT 140 is newly expanded and paved, the lights are operational to allow access out of Big Y and the Municipal Building as well as the other business opposite. It is rare to see only one car in the parking lot.
Why highlight the Big Y for this month? I think it tells us a couple of things about Franklin.
First - Businesses find Franklin a good place to operate. Look around at what is underway (new or renovation) or proposed. There are still some empty or underutilized buildings but compared to other communities, this is so much better. Why? Tax dollars. Yes, it is all the same tax rate but the businesses are at least paying and the more that come here, the better off we'll all be.
Second - the Big Y has helped create competition for our food dollars. Our family shopping pattern has changed to include a stop there periodically to take advantage of the sales. In times like these when stretching a dollar for as much as you can get, it helps when there is competition. Will Franklin remain with three food markets? Time will tell. In the meantime, we can shop for the best price!
For the 12 Days of Donating, the Franklin Food Elves have combined forces with the
Franklin Downtown Partnership
to benefit the
Franklin Food Pantry
. Donation bins are available at these participating businesses:
Berry Insurance, 9 Main St.
Chestnut Dental Associates, 38 Pond St.
Dean Bank, 21 Main St.
Dean College, Campus Center
DCU, 500 West Central St.
East Coast Driving School, 25 East Central St.
Emma's Quilt Cupboard, 12 Main St.
Franklin Downtown Partnership Office, 9 East Central St.
Jane's Frames, 11 East Central St.
Murphy Business, 15 East Central St.
RE/MAX Executive Realty, 445 Franklin Village Dr.
You can also make a donation securely through the Franklin Food Pantry web page
Day 7 - http://www.franklinmatters.org/2012/12/12-days-of-donating-day-7.html
Day 6 - http://www.franklinmatters.org/2012/12/12-days-of-donating-day-6.html
Day 5 - http://www.franklinmatters.org/2012/12/12-days-of-donating-day-5.html

Day 4 - http://www.franklinmatters.org/2012/12/12-days-of-donating-day-4.html
Day 3 - http://www.franklinmatters.org/2012/12/12-days-of-donating-day-3.html
Day 2 - http://www.franklinmatters.org/2012/12/12-days-of-donating-day-2.html
Day 1 - http://www.franklinmatters.org/2012/11/12-days-of-donating-day-1.html
Monday, October 8, 2012
In September, I wrote to remind those who visit
Stop & Shop for their food shopping to register their frequent buyer or savings card
with one or more Franklin schools.
The Big Y also offers a donation to your local school by registering your savings card. Big Y as part of their opening promotion is adding a Silver coin to those who accumulate more than $1,000 spending at the store between Oct 4 and Dec 31 2012.
The registration is simple. Go to the Big Y webpage
http://www.bigy.com/EducationExpress
You can link your savings card to a school. The selection defaults to CT schools, simply scroll down to find your Franklin school. Or you can start typing in your school name (for example, "Oak") and the page will return the results (in this case those containing "Oak").
Note:
Shaw's also has a program based upon Box Tops that also earns cash for local schools
http://www.growinglocallearning.com/
Sunday, August 26, 2012
The Oscar Meyer Wienermobile came to Franklin yesterday as part of the Big Y celbrating their grand opening.
As a big kid, and one who grew up with Oscar Meyer (yes, showing my age!) I couldn't pass up the opportunity.
Especially since Beefilicious Ben had sent me an email letting me know they were coming. If they took the time to find me, I could only return the favor!
I was justly rewarded with the visit
The inside reminded me more of Pooh Bear (similar colors)
I think I would could get used to seeing the hot dog on the dash after awhile. At least I hope so
This is only the most recent of a long line of vehicles that goes back to 1936. Is anyone around who remembers one of these earlier versions?
You can enter a contest to get driving around in the luxury vehicle if you register on
oscarmeyer.com
This was one way to bring smiles to those who came by the Big Y on Saturday!