Providing accurate and timely information about what matters in Franklin, MA since 2007. * Working in collaboration with Franklin TV and Radio (wfpr.fm) since October 2019 *
Monday, May 18, 2020
"Recycling Center Opens Full Service Starting Tuesday, May 19. All materials with associated costs must be prepaid via Viewpoint payment portal."
Beginning Tuesday, May 19, the Recycling Center will be open regular hours for full services. No cash or checks will be accepted.
All residents who wish to use the recycling center for item drop off will need to go online prior to pay the required fee(s).

The online payment portal for recycling fees is on our Viewpoint site (

https://franklinma.viewpointcloud.com/categories/1078

). If you do not have a Viewpoint account, follow the instructions to set it one up.

A printed slip detailing the fees paid will be required to show proof of payment at the Recycling Center.

No material that includes a fee will be accepted at the Recycling Center without prior payment online with printed receipt.

Please observe social distancing guidelines
For additional information please call 508-553-5500 and leave a message and someone will promptly call you back.

Attached is a copy of materials accepted, fees and hours at the Recycling Center and Curbside costs.
https://www.franklinma.gov/sites/franklinma/files/news/beaver_st_annual_sticker_fy20_5_11_20.pdf
Beaver St Recycling Center Opens Full Service Starting Tuesday, May 19
Sunday, May 17, 2020
Agenda Meeting Date May 20, 2020
A NOTE TO RESIDENTS: Due to the growing concerns regarding the COVID-19 virus, we will be conducting a remote/virtual Town Council Meeting. In an effort to ensure citizen engagement and comply with open meeting law regulations, citizens will be able to dial into the meeting using the provided phone number (Cell phone or Landline Required) OR citizens can participate by clicking on the attached link (Phone, Computer, or Tablet required). The attached link and phone number will be active for the duration of the meeting for citizens to ask questions/voice concerns.
Link to access meeting: May 20, 2020 Town Council Meeting Link HERE -- Then click "Open Zoom"
Or copy and paste this URL into your browser: https://us02web.zoom.us/j/83267080506
Call-In Phone Number: Call 1-929-205-6099 and enter Meeting ID # 832 6708 0506 --Then press #
1. ANNOUNCEMENTS
This meeting is being recorded by Franklin TV and shown on Comcast channel 11 and Verizon Channel 29. This meeting may be recorded by others.
2. CITIZEN COMMENTS
Citizens are welcome to express their views for up to five minutes on a matter that is not on the agenda. The Council will not engage in a dialogue or comment on a matter raised during Citizen Comments. The Town Council will give remarks appropriate consideration and may ask the Town Administrator to review the matter.
3. APPROVAL OF MINUTES
April 15, 2020
4. PROCLAMATIONS/RECOGNITIONS
a. Designating the Town of Franklin as a Purple Heart Community
b. American Legion
c. Larry Bederian
5. APPOINTMENTS
- None Scheduled
6. HEARINGS - 7:10pm
- None Scheduled
7. LICENSE TRANSACTIONS
- None Scheduled
8. PRESENTATIONS/DISCUSSIONS
a. Animal Control Department
b. Franklin Food Pantry
c. SAFE Coalition
d. Metacomet Emergency Communication Center (MECC)
9. SUBCOMMITTEE REPORTS
a. Capital Budget Subcommittee
b. Budget Subcommittee
c. Economic Development Subcommittee
10. LEGISLATION FOR ACTION
10a. LEGISLATION FOR ACTION
Resolution 20-27: Cell Tower Easement (Motion to Approve Resolution 20-27 - Majority Roll Call Vote)
10b. LEGISLATION FOR ACTION
Zoning Bylaw Amendment 20-853: Zoning Map Changes on or Near Pleasant, Chestnut, and Brook Streets - Second Reading (Motion to Adopt Zoning Bylaw Amendment 20-853 - Majority Roll Call Vote)
10c. LEGISLATION FOR ACTION
Zoning Bylaw Amendment 20-854: Changes to §185-40. Water Resource District - Second reading (Motion to Adopt Zoning Bylaw Amendment 20-854 - Majority Roll Call Vote)
10d. LEGISLATION FOR ACTION
Resolution 20-28: Ratification of the Memorandum of Agreement between the Franklin Police Sergeants Union employees and the Town of Franklin (Motion to approve Resolution 20-28 - Majority Roll Call Vote)
11. TOWN ADMINISTRATOR'S REPORT
a. Coronavirus Update
b. FY21 Budget Update
12. FUTURE AGENDA ITEMS
13. COUNCIL COMMENTS
14. EXECUTIVE SESSION
- None Scheduled
ADJOURN
Note:
Two-Thirds Vote: requires 6 votes
Majority Vote: requires majority of members present and voting
This was shared from the Town of Franklin page
https://www.franklinma.gov/town-council/agenda/may-20-town-council-agenda-remote-meeting
The agenda packet can also be found in this PDF file
https://www.franklinma.gov/sites/franklinma/files/agendas/05-20-2020_town_council_meeting_packet.pdf
Franklin, MA: Town Council - Agenda - May 20, 2020
FM #270 = This is the Franklin Matters radio show, number 270 in the series.
This session of the radio show shares my "Talk Franklin" conversation with Town Administrator Jamie Hellen and Marketing and Communications Specialist Anne Marie Tracey. We had our conversation via conference bridge to adhere to the 'social distancing' requirements of this pandemic period.
We talk about
Finance Committee budget hearings

Town Council meeting Wednesday; four presentations (Animal Control Department, Franklin Food Pantry, SAFE Coalition, Metacomet Emergency Communication Center (MECC))

Department Spotlight on Building and Inspections

The first production at Contollo Mass Manufacturing
And close with a recommendation to catch the Prince "Purple Rain" concert from 1985 streaming this weekend only on YouTube
The recording runs about 50 minutes, so let's listen to my conversation with Jamie and Anne Marie https://www.hipcast.com/podcast/H1mDhYL7
--------------
The Town of Franklin COVID-19 Portal page
https://www.franklinma.gov/home/pages/coronavirus-information-portal
Prince concert link https://www.youtube.com/channel/UCv3mNSNjuWldihk1DUdnGtw
We are now producing this in collaboration with Franklin.TV and Franklin Public Radio (wfpr.fm).
This podcast is my public service effort for Franklin but we can't do it alone. We can always use your help.
How can you help?
If you can use the information that you find here, please tell your friends and neighbors

If you don't like something here, please let me know
Through this feedback loop we can continue to make improvements. I thank you for listening.
For additional information, please visit Franklinmatters.org/
If you have questions or comments you can reach me directly at shersteve @ gmail dot com
The music for the intro and exit was provided by Michael Clark and the group "East of Shirley". The piece is titled "Ernesto, manana" c. Michael Clark & Tintype Tunes, 2008 and used with their permission.
I hope you enjoy!
------------------
You can also subscribe and listen to Franklin Matters audio on iTunes or your favorite podcast app; search in "podcasts" for "Franklin Matters"
among the first PPE gowns coming off the machine at Contollo Mass Mfg on Friday, May 18, 2020
Massachusetts State Representative and Chairman of the Joint Committee on Higher Education, Jeffrey Roy, announced his endorsement of Alan Khazei's bid for Congress in the fourth congressional district on Wednesday, May 13. Calling Khazei a "movement leader, coalition builder, and policy innovator," Representative Roy highlighted his belief that Khazei is the candidate who is most prepared to effectively represent the 4th district in Washington.
The longtime public servant emphasized Khazei's experience co-founding City Year, working with Senator Kennedy, President Clinton and President Obama to pass three major pieces of legislation creating and expanding AmeriCorps, his idea for "Restore the Dream Accounts" to relieve student debt and jumpstart all young people on the path to the American Dream, and his leadership in responding to the Covid-19 crisis by calling for policies like Emergency Wage Support to support Small Businesses, Vote by Mail, and one million Service Year Jobs.
"Alan Khazei has devoted decades to creating a culture of public service, through which he's impacted the lives of more than 30,000 young leaders who have served through City Year and 1.1 million in AmeriCorps. We've seen first hand in Massachusetts how people in City Year and AmeriCorps programs put their idealism to work to educate our children, build housing, care for our elderly, and preserve our environment. They are given opportunities to learn important skills and access higher education, to achieve their full potential," said Chairman Roy.
"Recently, Alan's response to the Covid-19 pandemic by supporting Vote by Mail legislation, which I've called for and we desperately need, and by proposing innovative policy solutions like Emergency Wage Support for small businesses and one million Service Year Jobs. I have no doubt that Alan will continue to be a leader in Washington where he will fight for progressive causes, including eliminating student debt, expanding health care, addressing climate change, reforming our democracy, sensible gun safety reform, and of course national service. He is the best candidate to effectively represent the 4th district."
Massachusetts State Representative and Chairperson of the Joint Committee on Higher Education Jeff Roy has represented the 10th Norfolk district since he was first elected to the Massachusetts House of Representatives in 2012. Before his election to the legislature, he was elected to the Franklin School Committee and later the town council, and as chairperson of the Franklin Democratic Town Committee.
In addition to his career as a public servant, Chairman Roy is the founding partner at his law firm, Roy Law, in Franklin, Massachusetts. He primarily focuses on the representation of injured persons. He has represented clients at every level of the Massachusetts Judicial System, including in cases heard by the Massachusetts Supreme Judicial Court and U.S. Court of Appeals for the First Circuit. Jeff Roy is a recipient of the St. Thomas More Society of Worcester Law School Scholarship and winner of the American Jurisprudence Award for Constitutional Law.
Alan Khazei For MA-04
Reacting to Roy's endorsement of his campaign, Khazei said, "I'm greatly honored to earn the endorsement of Chairman Roy. He commands a deep understanding of the needs of people in his district and our state and knows what it means to represent them effectively. Coming from Franklin, the home of our nation's first Public Library and Horace Mann, Chairman Roy has been a tremendous champion for K-12 education and access to higher education so that every young person in Massachusetts has the chance to reach their fullest potential.
Chairman Roy's focus on putting his values into action, outstanding commitment to serving his constituents, solving problems, and building bridges is exactly the kind of leadership I want to emulate in Congress. If elected, I will work closely with Massachusetts leaders like Chairman Roy to advocate for those policies that the fourth district desperately needs, including better access to healthcare, recovering from the economic effects of Covid-19, tackling climate change, education, and addressing gun safety."
Alan Khazei campaign page
https://alankhazei.com/
Pernicious evil growing
from dark pathogens
unearthed in a Wuhan lab
or the open market.
Eaten by an ant.
Swallowed by a bat.
Lapped by a pangolin.
Relished by a man.
No reason to make ado.
Some always look to blame.
Others always find conspiracy.
Then there's just bad Karma.
The fact that it survives
washing hands,
wearing gloves,
donning face masks,
is a testimony to the stubbornness
of an enemy beyond our eyes,
waiting to pounce and ride
round the world with abandonment.
What weapon will kill it?
Soap and vaccine will slow
but never have victory over
a bloodless, fleshless germ.
Wait till summer, some say.
The heat will kill the virus.
Then throw this bane back
to hell where it was conceived.
"Check out this link for a slide show of FUN and wacky famous Art reproductions created by staff and students at Remington MS! ENJOY!"
https://docs.google.com/presentation/d/1oymdFhxWcH5acQRdjdj5oQNteaRHGQhcvDa-N9dwUeE/edit?usp=sharing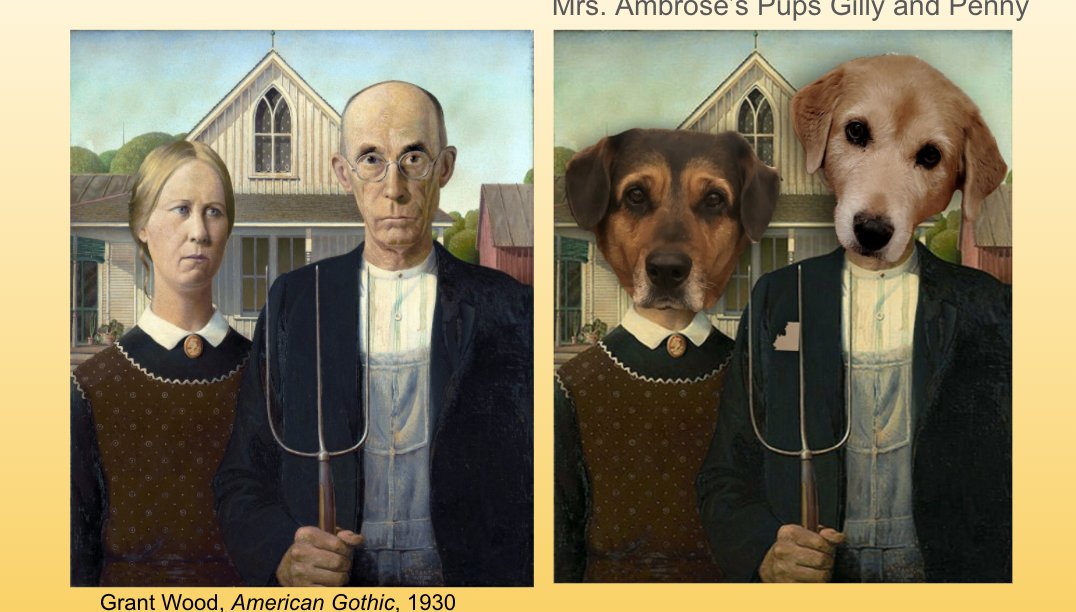 famous Art reproductions created by staff and students at Remington MS
Shared via Twitter:
https://twitter.com/FranklinPSart/status/1261641304401993730?s=09
From the
Milford Daily News
, articles of interest for Franklin:
"For more than five years, Lt. Gov. Karyn Polito has been a near constant at the side of Gov. Charlie Baker, a partner always there for every big moment, even if she was just off center stage.
From budget rollouts to bill-signing ceremonies and even a presidential endorsement, Polito has been there to back up whatever the administration was doing, and maybe add a few supportive words herself.
She has famously visited all 351 cities and towns, some more than once, and is the administration's chief liaison to municipal leaders, which has allowed her to quietly build relationships that could pay dividends in a future campaign.
But now, with the outbreak of COVID-19 consuming the administration and Baker's political future uncertain, Polito is getting a chance to step into the spotlight in her own right."
Continue reading the article online (subscription may be required)
https://www.milforddailynews.com/news/20200516/reopening-role-puts-lt-gov-karyn-polito-on-center-stage
The Reopening Advisory Board page can be found
https://www.mass.gov/orgs/reopening-advisory-board
Lt. Gov. Karyn Polito spoke at FHS 4/29/2019 about sexting legislation
From the archives on Lt Gov Polito's visit to Franklin in April 2019
https://www.franklinmatters.org/2019/05/polito-roy-tout-team-effort-to-provide.html
From the Reopening Advisory Board page at MA.gov:
Overview
The Department of Public Health (DPH) and the COVID-19 Command Center developed new Mandatory Workplace Safety Standards in consultation with the Reopening Advisory Board. These new standards will apply universally to all workplaces that are open in Phase 1, and are designed to reduce the risk of COVID-19 transmission to employees and customers during the first phase of reopening, and are applicable to all sectors and industries.
The Administration is releasing these Mandatory Workplace Safety Standards early, in advance of the start of Phase 1, to give workplaces time to plan and prepare for reopening.
These safety standards will be supplemented by sector-specific safety protocols and recommended best practices, which will provide further details and limited exceptions.
Social Distancing
All persons, including employees, customers, and vendors should remain at least six feet apart to the greatest extent possible, both inside and outside workplaces

Establish protocols to ensure that employees can practice adequate social distancing

Provide signage for safe social distancing

Require face coverings or masks for all employees
Hygiene Protocols
Provide hand washing capabilities throughout the workplace

Ensure frequent hand washing by employees and adequate supplies to do so

Provide regular sanitization of high touch areas, such as workstations, equipment, screens, doorknobs, restrooms throughout work site
Staffing and Operations
Provide training for employees regarding the social distancing and hygiene protocols

Employees who are displaying COVID19-like symptoms do not report to work

Establish a plan for employees getting ill from Covid-19 at work, and a return-to-work plan
Cleaning and Disinfecting
Establish and maintain cleaning protocols specific to the business

When an active employee is diagnosed with COVID19, cleaning and disinfecting must be performed

Disinfection of all common surfaces must take place at intervals appropriate to said workplace
Sector Specific Safety Protocols
​​​​​​The Reopening Advisory Board is developing Sector Specific Safety Standards and Best Practices that will detail how particular industries should operate upon reopening, as well as provide for limited exceptions to the mandatory standards. These sector specific standards are forthcoming.
https://www.mass.gov/info-details/reopening-mandatory-safety-standards-for-workplaces
South Station Air Rights Project
Work on the South Station Air Rights Project is planned to resume on May 18. Once the schedule impacts of the COVID-19 delays can be determined, a new construction timeline will be established.
Please note that Suffolk Construction, the contractor for the South Station Air Rights Project, and its subcontractors will be maintaining full compliance with the City of Boston's COVID-19 Safety Policies to ensure the safety of not only work crews but members of the traveling public.
New Construction Zone to be Established
Beginning on May 18, Suffolk Construction will begin establishing a construction zone adjacent to Track 13. The contractor recently installed a new sidewalk for pedestrians to access the train platforms directly from Dorchester Avenue, providing a more direct connection for those rail passengers looking to access the Fort Point Channel area.
If you are a passenger who will be using the sidewalk from Dorchester Avenue to the rail platform, you will need to use the newly painted crosswalk to enter the station (near the end of Tracks 11 and 12). Beginning Monday, May 25, passengers will no longer have direct access to Track 13 from the alley between South Station and the Post Office, as this will be part of the construction zone.
The newsletter was shortened for publication here. To view the ful contents
https://mailchi.mp/89560e626169/south-station-air-rights-project-open-house-on-january-6442724?e=3a8a5c15a9
South Station Air Rights Project - Construction Anticipated to Restart on May 18